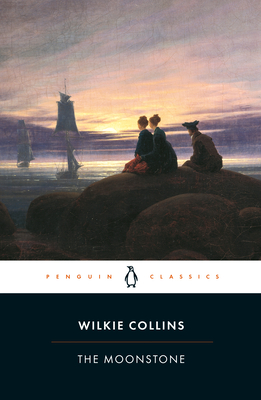 The Moonstone (Paperback)
Penguin Classics, 9780140434088, 528pp.
Publication Date: June 1, 1999
Other Editions of This Title:
Digital Audiobook (11/1/2010)
Paperback (10/8/2015)
Paperback (7/1/2015)
Paperback (3/22/2011)
Paperback (12/19/2013)
Paperback (4/30/2008)
Paperback (3/25/2016)
Paperback (7/8/2019)
Paperback (10/7/2018)
Paperback (7/20/2014)
Paperback (6/9/2017)
Paperback (8/1/2013)
Paperback (11/7/2011)
Paperback (4/1/2015)
Paperback (10/18/2017)
Paperback (2/28/2012)
* Individual store prices may vary.
Description
"When you looked down into the stone, you looked into a yellow deep that drew your eyes into it so that they saw nothing else."

The Moonstone, a yellow diamond looted from an Indian temple and believed to bring bad luck to its owner, is bequeathed to Rachel Verinder on her eighteenth birthday. That very night the priceless stone is stolen again and when Sergeant Cuff is brought in to investigate the crime, he soon realizes that no one in Rachel's household is above suspicion. Hailed by T. S. Eliot as "the first, the longest, and the best of modern English detective novels," The Moonstone is a marvellously taut and intricate tale of mystery, in which facts and memory can prove treacherous and not everyone is as they first appear.

Sandra Kemp's introduction examines The Moonstone as a work of Victorian sensation fiction and an early example of the detective genre, and discusses the technique of multiple narrators, the role of opium, and Collins's sources and autobiographical references.
About the Author
Wilkie (William) Collins (1824-89) was a hugely successful and popular crime, mystery and suspense writer. He wrote the first full-length detective novels in English and set a mould for the genre as shown in The Moonstone and "The Woman in White."   

Sandra Kemp has edited Virginia Woolf's short stories and Rudyard Kipling's Debits and Credits for Penguin Classics.
Praise For The Moonstone…
"The first and greatest of English detective novels."
--T. S. Eliot