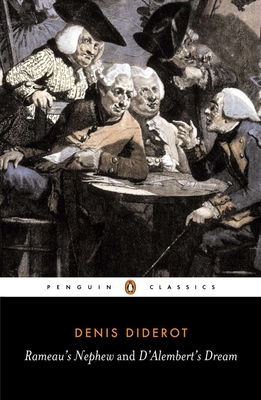 Rameau's Nephew and D'Alembert's Dream (Paperback)
Penguin Classics, 9780140441734, 240pp.
Publication Date: October 28, 1976
* Individual store prices may vary.
Description
Voltaire, Rousseau, Diderot—of the triumvirate that dominated French letters in the eighteenth century, Diderot was unmatched in the sheer breadth and depth of his interests and ideas. Rameau's Nephew and D'Alembert's Dream are dazzling exposés of Diderot's radical scientific and philosophical thinking. Written in dialogue form, they were too outspoken to be published during the lifetime of one whose ideas earned him enemies as fast as they stimulated new criteria for social progress. Of the two pieces, Rameau's Nephew was composed over many years, and in form and content it is an explosive cocktail unlike anything in French literature before or since. D'Alembert's Dream, on the other hand, was committed to paper in a matter of days; a clarion call for the cause of materialist determinism, it too shows Diderot as one of the most advanced thinkers of his age and is a powerful testament to the bizarre and unpredictable genius of its creator.
About the Author
Denis Diderot was born at Langres in eastern France in 1713, the son of a master cutler. He was originally destined for the Church but rebelled and persuaded his father to allow him to complete his education in Paris, where he graduated in 1732. For ten years Diderot was nominally a law student, but actually led a precarious bohemian but studious existence, eked out with tutoring, hack-writing and translating. His original writing began in 1746 with a number of scientific works setting out the materialist philosophy which he was to hold throughout his life. Along with his editorship of the Encyclopédie (1747-73), he wrote works on mathematics, medicine, the life sciences, economics, drama and painting, two plays and a novel, as well as his Salons (1759-81). His political writings were mainly composed around 1774 for Catherine II, at whose invitation he went to St. Petersburg. Diderot's astonishingly wide range of interests, together with his growing prediliction for the dialogue form, led to the production of his most famous works: D'Alembert's Dream, The Paradox of the Actor, Jacques the Fatalist and Rameau's Nephew. During the latter part of his life Diderot received a generous pension from Catherine II, in return for which he bequeathed her his library and manuscripts. He died in 1784.