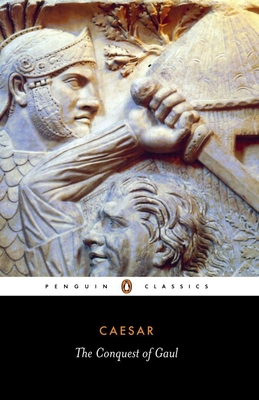 The Conquest of Gaul (Paperback)
Penguin Classics, 9780140444339, 272pp.
Publication Date: February 24, 1983
Other Editions of This Title:
Paperback (1/1/2012)
Hardcover (4/6/2010)
* Individual store prices may vary.
Description
Between 58 and 50 BC Caesar conquered most of the area now covered by France, Belgium and Switzerland, and twice invaded Britain. This is the record of his campaigns. Caesar's narrative offers insights into his military strategy & paints a fascinating picture of his encounters with the inhabitant of Gaul and Britain, as well as offering lively portraits of a number of key characters such as the rebel leaders and Gallic chieftains. This can also be read as a piece of political propaganda, as Caesar sets down his version of events for the Roman public, knowing that he faces civil war on his return to Rome.

For more than seventy years, Penguin has been the leading publisher of classic literature in the English-speaking world. With more than 1,700 titles, Penguin Classics represents a global bookshelf of the best works throughout history and across genres and disciplines. Readers trust the series to provide authoritative texts enhanced by introductions and notes by distinguished scholars and contemporary authors, as well as up-to-date translations by award-winning translators.
About the Author
Gaius Julius Caesar was born in 100 BC into an ancient patrician family. Much of his life was spent on military campaigns, & he returned to govern Rome as dictator. His dictatorship was declared perpetual in 44 BC, but his many bitter enemies hatched a conspiracy & assasinated him later that year.

S. Handford translated a number of authors for Penguin, including Sallust and Aesop.