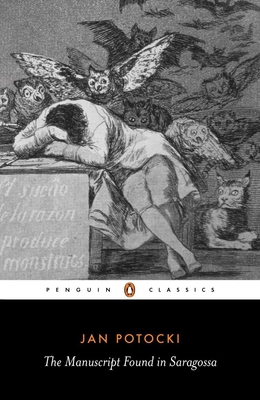 The Manuscript Found in Saragossa
Paperback

* Individual store prices may vary.
Description
A literary masterpiece by a Polish traveller, aristocratic adventurer, political activist, ethnographer and publisher

Alphonse, a young Walloon officer, is travelling to join his regiment in Madrid in 1739. But he soon finds himself mysteriously detained at a highway inn in the strange and varied company of thieves, brigands, cabbalists, noblemen, coquettes and gypsies, whose stories he records over sixty-six days. The resulting manuscript is discovered some forty years later in a sealed casket, from which tales of characters transformed through disguise, magic and illusion, of honour and cowardice, of hauntings and seductions, leap forth to create a vibrant polyphony of human voices. Jan Potocki (1761-1812) used a range of literary styles - gothic, picaresque, adventure, pastoral, erotica - in his novel of stories-within-stories, which, like the Decameron and Tales from the Thousand and One Nights, provides entertainment on an epic scale.

For more than seventy years, Penguin has been the leading publisher of classic literature in the English-speaking world. With more than 1,700 titles, Penguin Classics represents a global bookshelf of the best works throughout history and across genres and disciplines. Readers trust the series to provide authoritative texts enhanced by introductions and notes by distinguished scholars and contemporary authors, as well as up-to-date translations by award-winning translators.
Penguin Classics, 9780140445800, 656pp.
Publication Date: September 1, 1996
About the Author
Jan Potocki was born in Poland in 1761 into a very great aristocratic family, which owned vast estates. He was educated in Geneva and Lausanne, served twice in the army, and spent some time as a novice Knight of Malta. During his lifetime he was an indefatigable traveller and travel-writer, an Egyptologist and pioneering ethnologist, an occultist and an historian of the pre-Slavic peoples. He was a political activist and probably a freemason, although he seems to have espoused a bafflingly wide range of political causes, some of them patriotic. Among his other exploits were an ascent in a balloon over Warsaw with the aeronaut Blanchard and the provision of the first free press in that city.Potocki was proficient in many different languages, and his extensive travels led him through the Mediterranean, the Balkans, the Caucasus, and China. He married twice (the first marriage ending in a divorce) and had five children: scandalous rumors surrounded both of his marriages. In 1812 he retired to his estates in Poland, suffering from chronic ill health, melancholia, and disillusionment. He committed suicide in 1815.

Ian Maclean is Reader in French at the University of Oxford and a fellow of the Queen's College. He is a Professor of Renaissance Studies at Oxford with a particular interest in early modern intellectual history and Montaigne.