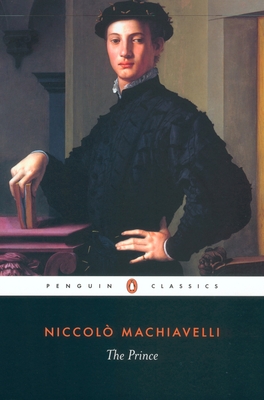 The Prince
Paperback

* Individual store prices may vary.
Other Editions of This Title:
Digital Audiobook (9/8/2017)
Digital Audiobook (1/31/2012)
Digital Audiobook (5/12/2019)
Digital Audiobook (1/13/2008)
Hardcover (6/4/2009)
Paperback (5/24/2009)
Paperback (5/2/2018)
Paperback (1/27/2011)
Paperback (11/7/2018)
Description
Machiavelli's highly influential treatise on political power

The Prince shocked Europe on publication with its advocacy of ruthless tactics for gaining absolute power and its abandonment of conventional morality. Niccoló Machiavelli drew on his own experience of office under the turbulent Florentine republic, rejecting traditional values of political theory and recognizing the complicated, transient nature of political life. Concerned not with lofty ideal but with a regime that would last, The Prince has become the bible of realpolitik, and it still retains its power to alarm and to instruct. In this edition, Machiavelli's tough-minded and pragmatic Italian is preserved in George Bull's clear, unambiguous translation.

For more than seventy years, Penguin has been the leading publisher of classic literature in the English-speaking world. With more than 1,700 titles, Penguin Classics represents a global bookshelf of the best works throughout history and across genres and disciplines. Readers trust the series to provide authoritative texts enhanced by introductions and notes by distinguished scholars and contemporary authors, as well as up-to-date translations by award-winning translators.
Praise For The Prince…
"[Machiavelli] can still engage our attention with remarkable immediacy, and this cannot be explained solely by the appeal of his ironic observations on human behaviour. Perhaps the most important thing is the way he can compel us to reflect on our own priorities and the reasoning behind them; it is this intrusion into our own defenses that makes reading him an intriguing experience. As a scientific exponent of the political art Machiavelli may have had few followers; it is as a provocative rhetorician that he has had his real impact on history." –from the Introduction by Dominic Baker-Smith
Penguin Classics, 9780140449150, 144pp.
Publication Date: February 4, 2003
About the Author
Niccolò Machiavelli (1469-1527) was a Florentine statesman who was later forced out of public life. He then devoted himself to studying and writing political philosophy, history, fiction, and drama.

George Bull is an author and journalist who has translated six volumes for the Penguin Classics: Benvenuto Cellini's Autobiography, The Book of the Courtier by Castiglione, Vasari's Lives of the Artists (two volumes), The Prince by Machiavelli and Pietro Aretino's Selected Letters. He is also Consultant Editor to the Penguin Business Series. After reading history at Brasenose College, Oxford, George Bull worked for the Financial Times, McGraw-Hill World News, and for the Director magazine, of which he was Editor-in-Chief until 1984. His other books include Vatican Politics; Bid for Power (with Anthony Vice), a history of take-over bids; Renaissance Italy, a book for children; Venice: The Most Triumphant City; and Inside the Vatican.

Anthony Grafton teaches European intellectual history at Princeton University.