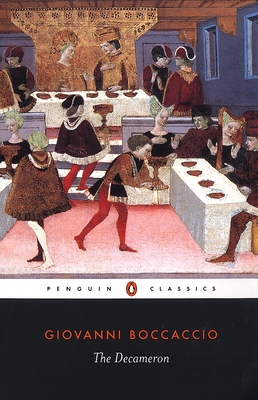 The Decameron
Paperback

* Individual store prices may vary.
Description
"The Decameron reads in some ways as a guide to social distancing and self-isolation." —The New York Times

"The 14th-century Italian book that shows us how to survive coronavirus." —New Statesman

A complete edition of the hilarious, bawdy, irreverent masterpiece of medieval Italy—and the inspiration for the film The Little Hours—in an acclaimed translation

In the summer of 1348, as the Black Death ravages their city, ten young Florentines take refuge in the countryside. They amuse themselves by each telling a story a day for the ten days they are destined to remain there—a hundred stories of love, adventure and surprising twists of fate. Less preoccupied with abstract concepts of morality or religion than with earthly values, the tales range from the bawdy Peronella hiding her lover in a tub to Ser Cepperello, who, despite his unholy effrontery, becomes a Saint. The result is a towering monument of European literature and a masterpiece of imaginative narrative.

This is the second edition of G. H. McWilliam's acclaimed translation of The Decameron. His introduction illuminates the worlds of Boccaccio and of his storytellers, showing Boccaccio as a master of vivid and exciting prose fiction. 
Praise For The Decameron…
"McWilliam's finest work, [his] translation of Boccaccio's Decameron remains one of the most successful and lauded books in the series." —The Times (London)

"The Decameron, by Giovanni Boccaccio (1313–1375), made a great impression on me. . . . Ten youths—seven women and three men—take turns telling stories for 10 days. At around the age of 16, I found it reassuring that Boccaccio, in conceiving his narrators, had made most of them women. Here was a great writer, the father of the modern story, presenting seven great female narrators. There was something to hope for. . . . The seven female narrators of the Decameron should never again need to rely on the great Giovanni Boccaccio to express themselves. . . . The female story, told with increasing skill, increasingly widespread and unapologetic, is what must now assume power." —Elena Ferrante, The New York Times

Penguin Classics, 9780140449303, 1072pp.
Publication Date: April 29, 2003
About the Author
Giovanni Boccaccio (1313–1375) was born in Florence, Italy. His life thus coincided with the flowering of the early Renaissance, and indeed his closest friend was Petrarch, the other towering literary figure of the period. During his lifetime, Boccaccio was a diplomat, businessman, and international traveler, as well as the creator of numerous works of prose and poetry. Of his achievements, The Decameron, completed sometime between 1350 and 1352, remains his lasting contribution to world literature, immensely popular from its original appearance to the present day.

G. H. McWilliam, a former Fellow of Trinity College, Dublin, was Professor Emeritus of Italian in the University of Leicester. He translated plays by Italo Svevo, Pirandello, and Betti, as well as poems by Salvatore Quasimodo, and was awarded the Italian government's silver medal for services to Italian culture. He died in 2001.