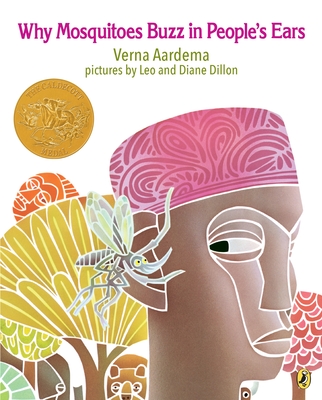 Why Mosquitoes Buzz in People's Ears: A West African Tale (Paperback)
A West African Tale
Puffin Books, 9780140549058, 28pp.
Publication Date: August 15, 1992
Description
"In this Caldecott Medal winner, Mosquito tells a story that causes a jungle disaster. "Elegance has become the Dillons' hallmark. . . . Matching the art is Aardema's uniquely onomatopoeic text . . . An impressive showpiece."
-Booklist, starred review. Winner of Caldecott Medal in 1976 and the Brooklyn Art Books for Children Award in 1977.
About the Author
Verna Aardema published her first set of stories, Tales from the Story Hat, in 1960. They were so successful that she continued to adapt traditional tales and folklore from distant cultures, (usually from Africa and Mexico) to expose young children to the vast variety of human expression. She's the author of over 30 children's books. Her book, Why Mosquitoes Buzz in People's Ears (1975) received the Caldecott Medal in 1976 and the Brooklyn Art Books for Children Award in 1977. Who's in Rabbit's House? 1977 was the 1977 School Library Journal Best Book of the Year and a Lewis Carroll Shelf Award winner in 1978. Aardema received the Children's Reading Round Table Award in 1981, and several of her works have been selected as Notable Books by the American Library Association. Her Oh Kojo! How Could You! won the 1984 Parents' Choice Award for Literature. Leo Dillon and Diane Dillon, a husband-and-wife team, created more than 100 book and magazine covers together as well as interior artwork. The Dillons won the Caldecott Medal in 1976 and 1977 In 1978 they were the runners-up for the biennial, international Hans Christian Andersen Award for children's illustrators, and were the U.S. nominee again in 1996.
Advertisement