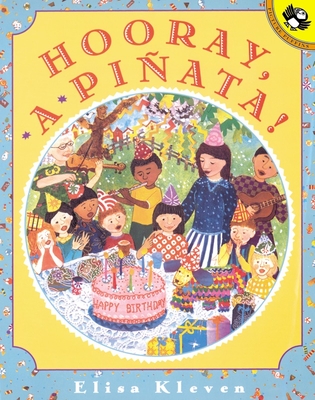 Hooray, a Pinata! (Paperback)
Puffin Books, 9780140567649, 32pp.
Publication Date: November 1, 2000
* Individual store prices may vary.
Description
Clara picks an adorable dog pinata for her birthday party. She names him Lucky, and he becomes her constant companion. When the big day finally comes, she doesn't want to let everybody break him. But if Clara keeps Lucky as a pet, she won't have a pinata at her party. Luckily her friend, Samson, comes to the rescue with a wonderful solution -- and a different pinata that nobody will mind breaking.

Elisa Kleven's lively, multicolored collage art is the perfect compliment to this joyful birthday story about the power of imagination.

* "There is not a wrong note in this wonderful, upbeat picture book. . . Magical yet full of warmth and homey details, the pictures are a seamless blending of watercolor, ink, and cut paper. Alive with color, pattern, and shape, they'll keep even the most easily distractible child fascinated." --Booklist, starred review
About the Author
As a child Elisa Kleven loved to make miniature, make believe worlds using art supplies, scraps, and imagination. She now uses that same joyful imagination to create the colorful, detailed worlds inside of her picture books.

Elisa is the author and illustrator of many books, including The Lion and the Little Red Bird and The Paper Princess, both of which have been adapted as theater productions, Sun Bread, a New York Times Best Illustrated Book, and her recent Glasswings, a Butterfly's Story. She has also illustrated numerous books for other authors, including the bestselling Abuela by Arthur Dorros and De Colores by Jose Luis Orozco, both ALA Notable Books..

Elisa lives with her family and pets in the town of Albany, a few minutes from San Francisco Bay. 
Praise For Hooray, a Pinata!…
* "Kleven's (The Paper Princess; Abuela) perky writing speaks confidently to the everyday emotional ups and downs in the lives of children. The tolerance shown Clara's seemingly quirky ideas is positive and reassuring." --Publishers Weekly, starred review

"Both the affectionate story and vibrant artwork are sure to please children." --School Library Journal

* "There is not a wrong note in this wonderful, upbeat picture book. . . Magical yet full of warmth and homey details, the pictures are a seamless blending of watercolor, ink, and cut paper. Alive with color, pattern, and shape, they'll keep even the most easily distractible child fascinated." --Booklist, starred review