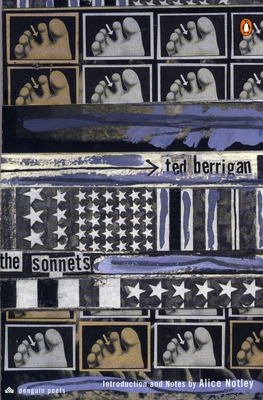 The Sonnets (Penguin Poets) (Paperback)
Penguin Books, 9780140589276, 128pp.
Publication Date: October 1, 2000
* Individual store prices may vary.
Description
Originally published in 1964, The Sonnets by Ted Berrigan is considered by many to be his most important and influential book. This new annotated edition, with an introduction by Alice Notley, includes seven previously uncollected works. Like Shakespeare's sonnets, Berrigan's poems involve friendship and love triangles, but while the former happen chronologically, Berrigan's happen in the moment, with the story buried beneath a surface of names, repetitions, and fragmented experience. Reflecting the new American sensibilities of the 1960's as well as timeless poetic themes, The Sonnets is both eclectic and classical — the poems are monumental riddles worth contemplating.
About the Author
Ted Berrigan, poetic and inspiratinal genius of the second generation of the New York School Poets, was born in Providence, Rhode Isalnd, on November 15, 1934. He was educated at La Salle Academy in Providence and, after sixteen months in Korea as a soldier, at the University of Tulsa (on the GI Bill). During the 1960's he lived in New York's Lower East Side, writing city poems, publishing the exciting and unique "C" Magazine and "C" Press books, writing art criticism, and playing leader to a group of young poets and appreciators of poetry. Later he was Writer In Residence, Lecturer, Teaching Fellow, etc. at such places as The Writers Workshop (University of Iowa), the University of Essex (England), Northeastern Illinois University (Chicago), and the Naropa Institute. In the mid-1970s he returned to the Lower East Side, teaching at Stevens Institute of Technology and the City College of New York, giving poetry readings everywhere, and influencing a new generation of poets. His many books include the major sequence The Sonnets, a central collection So Going Around Cities, several collaborative books with other poets, long poems, a novel, and interviews. In a curriculum vitae from 1982, he described himself as "modestly venerable, large, traditional in appearance. Resemble Apollinaire (w/beard) or bear disguised as GBS … Formidable, affable, durable …" He died on July 4, 1983.
Alice Notley is a poet whose twenty previous titles include The Descent of Alette, Beginning with a Stain, Homer's Art, and Selected Poems. She wrote the introduction for her late first husband Ted Berrigan's Selected Poems. She lives in Paris.
Praise For The Sonnets (Penguin Poets)…
"
The Sonnets
are an enduring benchmark in mid-20th-century American poetics. Intimate, endlessly inventive, they make an extraordinary manifest of that time and all its habits of person and place. They are without question a great literary artifact but they are also the unique presence of our human world — just yesterday, as one says, and now forever and ever. Alice Notley has done a consummate job of editing and her notes and introduction are an excellent resource for all present-day poets and readers alike"
— Robert Creeley
"One of the most significant works of twentieth-century American poetry, Ted Berrigan's Sonnets remains as present and perspicacious as it was when it first appeared in the world almost forty years ago. Its vivacity remains unabashed, its momentum remains undeterred. It is a work in time about time's inability to stop life. The Sonnets denies nothing; it acknowledges fear and tragedy; it discovers hilarity and speaks of beauty and of love. It encompasses plenitude; it is great."
— Lyn Heinian
"Even though out of print for much of the last third of the 20th century, Ted Berrigan's The Sonnets has inspired and influenced several generations of poets. Its present reissue in a definitive, annotated form is a major event in Anglophone literature. Its playful range of verbal pyrotechnics serves to convey a unique sensibility, sense of humor, strength of feeling. The Sonnets is a modern (or, if you wish, postmodern) classic, an exemplary source book for innovative writing strategies. Dazzling but not faddish, solid but not solemn, The Sonnets is poetry that gives you things to think about, and to think about again. And again."
— Anselm Hollo