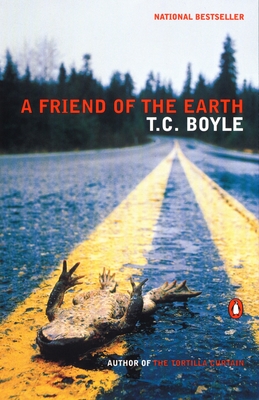 A Friend of the Earth (Paperback)
Penguin Books, 9780141002057, 368pp.
Publication Date: September 1, 2001
* Individual store prices may vary.
Description
One of LitHub's "365 Books to Start Your Climate Change Library"
 
Originally published in 2000, T. C. Boyle's prescient novel about global warming and ecological collapse

It is the year 2025. Global warming is a reality. The biosphere has collapsed and most mammals—not to mention fish, birds, and frogs—are extinct. Tyrone Tierwater is eking out a bleak living in southern California, managing a pos star's private menagerie that "only a mother could love"—scruffy hyenas, jackals, warthogs, and three down-at-the-mouth lions.

It wasn't always like this for Ty. Once he was a passionate environmentalist, so committed to saving the earth that he became an eco-terrorist and, ultimately, a convicted felon. as a member of the radical group Earth Forever!, he unwittingly endangered both his daughter Sierra and his wife Andrea. Now, just when he's trying to survive in a world torn by obdurate storms and winnowing drought, Andrea comes back into his life. 

T. C. Boyle's eighth novel blends idealism and satire in a story that addresses the ultimate questions of human love and the survival of the species.
About the Author
T. C. Boyle is the author of eleven novels, including
World's End
(winner of the PEN/FaulknerAward),
Drop City
(a
New York Times
bestseller and finalist for the National Book Award), and
The Inner Circle
. His most recent story collections are
Tooth and Claw
and
The Human Fly and Other Stories
.
Praise For A Friend of the Earth…
Praise for A Friend of The Earth:
Funny and touching, antic and affecting . . . while Boyle's humor is as black as ever, he demonstrates that satire can coexist with psychological realism, comedy with compassion."
—
Michiko Kakutani,
The New York Times
"As disaster tales go, this is a sly, hip one...Boyle has always liked to play circus barker for life's extremes and what better freak show than the environmental apocalypse itself?" —The Washington Post
"Both entertaining and informative...hits like a warning shot from twenty-five years into the future." —Chicago Tribune

"A Friend of the Earth is about people and nature coming to terms with each other. In many ways it is a far more convincing argument for sustainable living in nature than any nonfiction environmental tract." —San Francisco Chronicle 

"Boyle gives us a vivid, grim, hilarious portrait of our world . . . he has a marvelous gift for translating large-scale environmental scenarios into immediate, palpable terms . . . What gives A Friend of the Earth's comically dismal future its bite is how profoundly it is embedded in the present . . . Boyle's energetic prose achieves a fine balance between wacky comedy and serious reflection." —The San Diego Union-Tribune

"Ripped from tomorrow's headlines, the ecobiography of Tyrone Tierwater—failed monkeywrencher, ex-husband, ex-con, ex-zookeeper of the last Patagonian fox, and still-grieving father of the tree-dwelling Sierra, a twenty-first-century martyr to the redwoods." —Outside 

"The story careens along with the breathless authority of a roller coaster . . . In A Friend of the Earth, Boyle sets himself a new challenge, swinging a leg wide to plant a foot solidly on new ground. Part antic comedy, part ecological intelligencer, part heartfelt plaint, it is a comic novel on grievous themes, a serious exploration of tragic truths. It not only marks Boyle's progress as a literary talent but demonstrates his consistent ability to entertain." —Los Angeles Times 

"Boyle is still one of the most inventive and exhilerating novelists around, showing how you can drive a narrative and still have fun with language." —The Philadelphia Inquirer 

"Boyle's wonderful writing is simultaneously wild, talky, and charming. If A Friend of the Earth is a provoker of conscience, it is also—and foremost—rich entertainment." —The Cleveland Plain Dealer