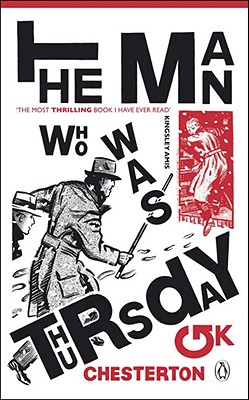 The Man Who Was Thursday (Paperback)
A Nightmare
Penguin Books, 9780141033754, 209pp.
Publication Date: June 1, 2008
Other Editions of This Title:
Paperback (5/2/2018)
Paperback (5/24/2008)
Paperback (10/23/2018)
Paperback (11/28/2017)
Paperback (9/24/2019)
Paperback (5/18/2018)
Paperback (12/25/2019)
Paperback (7/30/2008)
Paperback (4/12/2015)
Paperback (1/14/2009)
Paperback (8/8/2019)
Paperback (11/29/2019)
Paperback (5/26/2018)
Paperback (5/23/2018)
Paperback (2/8/2019)
Paperback (10/28/2017)
Paperback (10/15/2007)
* Individual store prices may vary.
Description
Boys are mysterious creatures, with rich imaginations and inner lives at which most can only guess. Luckily, a few writers have the talent to capture their fantasies of extraordinary adventure and epic bravery. Inspired by the success of The Dangerous Book For Boys, the six titles of the Penguin Great Books For Boys collection celebrate the adventurer within every boy with tales of shipwreck, murder, espionage, and survival. With a striking series look that is nostalgic and, at the same time, completely modern, these Great Books For Boys are sure to appeal to boys young and old. In a park in London, secret policeman Gabriel Syme strikes up a conversation with an anarchist. Sworn to do his duty, Syme uses his new acquaintance to go undercover in Europe's Central Anarchist Council and infiltrate their deadly mission, even managing to have himself voted to the position of ?Thursday.? When Syme discovers another undercover policeman on the Council, however, he starts to question his role in their operations. And as a desperate chase across Europe begins, his confusion grows, as well as his confidence in his ability to outwit his enemies. But he has still to face the greatest terror that the Council has?its leader: a man named Sunday, whose true nature is worse than Syme could ever have imagined?
About the Author
G.K. Chesteron was born in 1874. He attended the Slade School of Art, where he appears to have suffered a nervous breakdown, before turning his hand to journalism. A prolific writer throughout his life, his best-known books include The Napoleon of Notting Hill (1904), The Man Who Knew Too Much (1922) and the Father Brown stories. Chesterton converted to Roman Catholicism in 1922 and died in 1938. Matthew Beaumont is Senior Lecturer in English at University College London. His most recent book is Utopia Ltd.: Ideologies of Social Dreaming in England, 1870-1900 (2009).
or
Not Currently Available for Direct Purchase