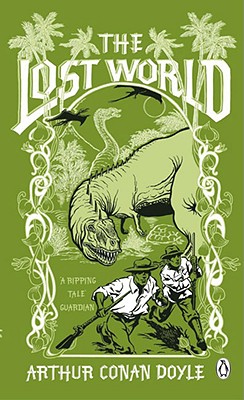 The Lost World (Paperback)
Penguin Books, 9780141033778, 272pp.
Publication Date: May 27, 2008
Other Editions of This Title:
Paperback (1/14/2019)
Paperback (12/22/2015)
Paperback (10/3/2018)
Paperback (11/7/2014)
Paperback (5/29/2017)
Paperback (8/10/2015)
Paperback (3/3/2019)
Paperback (2/5/2016)
Paperback (9/21/2017)
Paperback (4/24/2019)
Paperback (2/2/2012)
Paperback (10/3/2018)
Paperback (9/13/2018)
Paperback (9/16/2016)
Paperback (9/12/2008)
Paperback (11/10/2019)
Paperback (9/6/2018)
Paperback (11/28/2019)
Paperback (5/26/2017)
* Individual store prices may vary.
Description
Boys are mysterious creatures, with rich imaginations and inner lives at which most can only guess. Luckily, a few writers have the talent to capture their fantasies of extraordinary adventure and epic bravery. Inspired by the success of The Dangerous Book For Boys, the six titles of the Penguin Great Books For Boys collection celebrate the adventurer within every boy with tales of shipwreck, murder, espionage, and survival. With a striking series look that is nostalgic and, at the same time, completely modern, these Great Books For Boys are sure to appeal to boys young and old.

Unlucky in love, but desperate to prove himself in an adventure, journalist Ed Malone is sent to interview the infamous and hot-tempered Professor Challenger about his bizarre South American expedition findings? especially his sketches of a strange plateau and the monstrous creatures that appear to live there.

But rather than being angry at his questions, Challenger invites him along on his next field trip. Malone is delighted; until it becomes clear that the Professor was telling the truth about the terrible lost world he discovered.

Will they all survive the terrifying creatures on the island? And will anyone ever believe what they saw there?
About the Author
Sir Arthur Conan Doyle was born in Edinburgh in 1859. After nine years in Jesuit schools, he went to Edinburgh University, receiving a degree in medicine in 1881. He then became an eye specialist in Southsea, with a distressing lack of success. Hoping to augment his income, he wrote his first story, A Study in Scarlet. His detective, Sherlock Holmes, was modeled in part after Dr. Joseph Bell of the Edinburgh Infirmary, a man with spectacular powers of observation, analysis, and inference. Conan Doyle may have been influenced also by his admiration for the neat plots of Gaboriau and for Poe's detective, M. Dupin. After several rejections, the story was sold to a British publisher for £25, and thus was born the world's best-known and most-loved fictional detective. Fifty-nine more Sherlock Holmes adventures followed. Once, wearying of Holmes, his creator killed him off, but was forced by popular demand to resurrect him. Sir Arthur—he had been knighted for this defense of the British cause in his The Great Boer War—became an ardent Spiritualist after the death of his son Kingsley, who had been wounded at the Somme in World War I. Sir Arthur Conan Doyle died in Sussex in 1930.
Praise For The Lost World…
"The Lost World . . . provide[s] evidence that Doyle had it in him to be one of the greatest science fiction writers of all time."—Sam Moskowitz
or
Not Currently Available for Direct Purchase