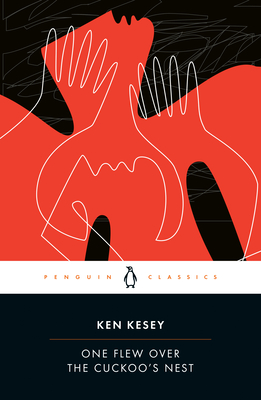 One Flew Over the Cuckoo's Nest (Paperback)
Penguin Classics, 9780141181226, 312pp.
Publication Date: December 31, 2002
Other Editions of This Title:
Digital Audiobook (12/28/2006)
Paperback (2/1/1963)
Paperback (10/18/2016)
Paperback (11/27/2007)
Prebound (2/1/1963)
Prebound (2/1/1963)
Paperback (1/1/1996)
MP3 CD (3/1/2005)
Paperback (8/25/1977)
Paperback, Chinese (3/30/2011)
Paperback (10/1/1999)
Hardcover (1/28/2002)
Paperback (8/25/1977)
Paperback (6/1/2007)
Audio Cassette (5/1/1998)
Paperback (12/1/2006)
Prebound (1/1/2010)
* Individual store prices may vary.
Description
Ken Kesey's bracing, inslightful novel about the meaning of madness and the value of self-reliance

Boisterous, ribald, and ultimately shattering, Ken Kesey's One Flew Over the Cuckoo's Nest is the seminal novel of the 1960s that has left an indelible mark on the literature of our time. Here is the unforgettable story of a mental ward and its inhabitants, especially the tyrannical Big Nurse Ratched and Randle Patrick McMurphy, the brawling, fun-loving new inmate who resolves to oppose her. We see the struggle through the eyes of Chief Bromden, the seemingly mute half-Indian patient who witnesses and understands McMurphy's heroic attempt to do battle with the awesome powers that keep them all imprisoned.
About the Author
Ken Kesey was born in 1935 and grew up in Oregon. His books include Sometimes a Great Notion, Kesey's Garage Sale, Demon Box, Sailor Song, and Last Go Round (with Ken Babbs). He passed away on November 10, 2001.
Praise For One Flew Over the Cuckoo's Nest…
"A work of genuine literary merit . . . What Mr. Kesey has done in his unusual novel is to transform the plight of a ward of inmates in a mental hospital into a glittering parable of good and evil."
--The New York Times Book Review

"[A] brilliant first novel . . . a strong, warm story about the nature of human good and evil . . . Keysey has made his book a roar of protest against middlebrow society's Rules and the invisible Rulers who enforce them."
--Time

"The final triumph of these men at the cost of a terrifying sacrifice should send chills down any reader's back. . . . This novel's scenes have the liveliness of a motion picture."
--The Washington Post

"An outstanding book . . . [Kesey's] characters are original and real. . . . This is a tirade against the increasing controls over man and his mind, yet the author never gets on a soap box. Nor does he forget that there is a thin line between tragedy and comedy."
--Houston Chronicle 




Coverage from NPR