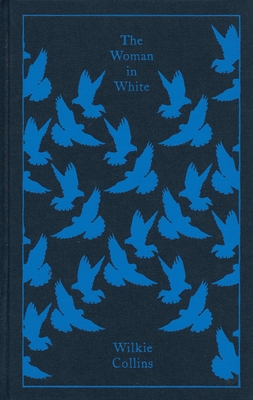 The Woman in White (Penguin Clothbound Classics) (Hardcover)
Penguin Classics, 9780141192420, 720pp.
Publication Date: September 28, 2010
Other Editions of This Title:
Paperback (9/17/2015)
Paperback (10/9/2017)
Paperback (3/14/2014)
Paperback, Large Print (8/3/2011)
Paperback (9/20/2018)
Paperback (11/21/2018)
Paperback (6/29/2016)
Paperback (1/1/2006)
Paperback (1/20/2014)
Paperback (12/17/2016)
Paperback (4/1/2015)
Paperback (10/24/2018)
Paperback (1/8/2013)
Paperback (2/27/2014)
Paperback (1/13/2015)
* Individual store prices may vary.
Description
Part of Penguin's beautiful hardback Clothbound Classics series, designed by the award-winning Coralie Bickford-Smith, these delectable and collectible editions are bound in high-quality colourful, tactile cloth with foil stamped into the design. The Woman in White famously opens with Walter Hartright's eerie encounter on a moonlit London road. Engaged as a drawing master to the beautiful Laura Fairlie, Walter is drawn into the sinister intrigues of Sir Percival Glyde and his 'charming' friend Count Fosco, who has a taste for white mice, vanilla bonbons and poison. Pursuing questions of identity and insanity along the paths and corridors of English country houses and the madhouse, The Woman in White is the first and most influential of the Victorian genre that combined Gothic horror with psychological realism.
About the Author
Collins is best remembered for his novels, particularly The Woman in White (1860) and The Moonstone (1868), which T. S. Eliot called 'the first, the longest, and the best of modern English detective novels'. His later, and at the time rather sensational, novels include The New Magdalen (1873) and The Law and The Lady (1875). Collins also braved the moral censure of the Victorian age by keeping two women (and their households) while marrying neither. He died in 1889.
Praise For The Woman in White (Penguin Clothbound Classics)…
"Collins was a master craftsman, whom many modern mystery-mongers might imitate to their profit." —Dorothy L. Sayers