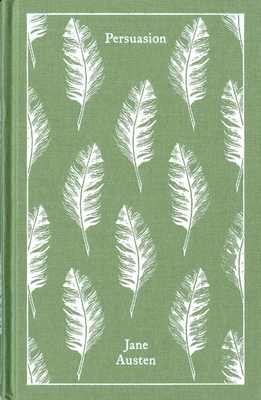 Persuasion (Penguin Clothbound Classics)
Hardcover

* Individual store prices may vary.
Other Editions of This Title:
Paperback (4/5/2014)
Paperback (8/11/2018)
Paperback (7/17/2018)
Paperback (4/27/2012)
Paperback (7/23/2018)
Paperback (1/30/2017)
Paperback (5/12/2013)
Paperback (9/18/2014)
Paperback (2/2/2013)
Paperback (6/14/2018)
Paperback (7/2/2018)
Paperback (3/5/2018)
Paperback (3/29/2018)
Paperback (5/7/2015)
Paperback (12/17/2011)
Paperback (6/6/2013)
Paperback (9/16/2012)
Paperback (10/19/2007)
Paperback (6/12/2019)
Paperback (12/7/2016)
Description
Part of Penguin's beautiful hardback Clothbound Classics series, designed by the award-winning Coralie Bickford-Smith, these delectable and collectible editions are bound in high-quality colourful, tactile cloth with foil stamped into the design. At twenty-seven, Anne Elliot is no longer young and has few romantic prospects. Eight years earlier, she had been persuaded by her friend Lady Russell to break off her engagement to Frederick Wentworth, a handsome naval captain with neither fortunenor rank. What happens when they encounter each other again is movingly told in Jane Austen's last completed novel. Set in the fashionable societies of Lyme Regis and Bath, Persuasion is a brilliant satire of vanity and pretension, but, above all,it is a love story tinged with the heartache of missed opportunities.
Praise For Persuasion (Penguin Clothbound Classics)…
"Critics, especially [recently], value Persuasion highly, as the author's 'most deeply felt fiction,' 'the novel which in the end the experienced reader of Jane Austen puts at the head of the list.' . . . Anne wins back Wentworth and wins over the reader; we may, like him, end up thinking Anne's character 'perfection itself.'" –from the Introduction by Judith Terry
Penguin Classics, 9780141197692, 288pp.
Publication Date: April 24, 2012
About the Author
Jane Austen was an English novelist whose works of romantic fiction set among the gentry have earned her a place as one of the most widely read and most beloved writers in English literature. She was born in Steventon rectory on 16th December 1775. Her family later moved to Bath and then to Chawton in Hampshire. She wrote from a young age and Pride and Prejudice was begun when she was twenty-two years old. It was initially rejected by the publisher she submitted it to and eventually published in 1813 after much revision. All four of her novels - Sense and Sensibility (1811), Pride and Prejudice (1813), Mansfield Park (1814) and Emma (1815) published in her lifetime were published anonymously. Jane Austen died on 18th July 1817. Northanger Abbey and Persuasion (both 1817) were published posthumously.