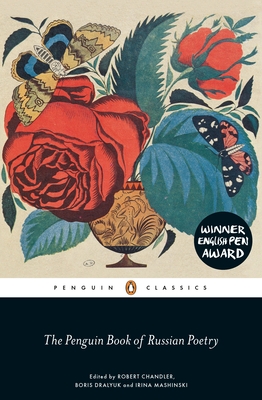 The Penguin Book of Russian Poetry
Paperback

* Individual store prices may vary.
Description
An enchanting collection of the very best of Russian poetry, edited by acclaimed translator Robert Chandler together with poets Boris Dralyuk and Irina Mashinski

In the late eighteenth and early nineteenth centuries, poetry's pre-eminence in Russia was unchallenged, with Pushkin and his contemporaries ushering in the 'Golden Age' of Russian literature. Prose briefly gained the high ground in the second half of the nineteenth century, but poetry again became dominant in the 'Silver Age' (the early twentieth century), when belief in reason and progress yielded once more to a more magical view of the world. During the Soviet era, poetry became a dangerous, subversive activity; nevertheless, poets such as Osip Mandelstam and Anna Akhmatova continued to defy the censors. This anthology traces Russian poetry from its Golden Age to the modern era, including work by several great poets - Georgy Ivanov and Varlam Shalamov among them - in captivating modern translations by Robert Chandler and others. The volume also includes a general introduction, chronology and individual introductions to each poet.

For more than seventy years, Penguin has been the leading publisher of classic literature in the English-speaking world. With more than 1,700 titles, Penguin Classics represents a global bookshelf of the best works throughout history and across genres and disciplines. Readers trust the series to provide authoritative texts enhanced by introductions and notes by distinguished scholars and contemporary authors, as well as up-to-date translations by award-winning translators.
Praise For The Penguin Book of Russian Poetry…
"There is no single book that brings together such a range of poets as this one does. . . . The ultimate goal of any translation is to inspire. . . . If immersion in this volume contributes to further creativity of this sort, it will have justified its place on our bookshelves." —The Times Literary Supplement

"Marvellous." —New Statesman

"A major and surely lasting achievement that will represent Russian poetry memorably to a new generation of anglophone readers." —Translation and Literature Review
 
"A stunning anthology. It is a treasure house of poetic riches and a monument to the lives of those who created them." —London Grip

"A lucky find for Slavic scholars, English-speaking Russophiles, and poetry lovers of many stripes . . . Even if Russia cannot fully be understood, its poetry, at least, is something to be believed in." —Russian Life

"A lively collection that will be a standard work for years to come." —Australian Book Review

"Ambitious—in scope, biographical apparatus and in what it expects of its translators . . . The names . . . form the 20th century's poetic roll of honour. . . . Anthologies such as this should remind [the children of the new Russia] why their country's poetry once so greatly mattered." —The Observer

"This extraordinary anthology has no precedent or peer. . . . Finally, a comprehensive collection of fine, often extraordinarily fine, translations, with accurate and acute background and critical information . . . This book provides a much-needed entry into Russian poetry." —PN Review

"Open[s] up exciting new horizons. Russian literature, after Stalin, suddenly looks very different." —Standpoint

"Russia's proud poetic heritage is revived brilliantly in English in this new anthology." —RTÉ Ten

"A lively collection complete with informative pen portraits . . . It embraces the sweep of modern Russian history, including the now somewhat neglected Soviet period, imparting something of the profundity, humanity and suffering of that experience, whilst remaining upbeat and amusing, in the best traditions of Russian art." —The Spokesman

"A major advance in the appreciation of Russian poetry in the West . . . The breadth of coverage is outstanding." —Society for Co-operation in Russian and Soviet Studies

"It is tempting to describe this book as encyclopaedic. . . . Of course it is not. But the great quantity and range of material that is included, plus the wonderfully informative introduction, bibliography and notes that we have come to expect of any work in which Robert Chandler has had a hand, do indeed take it a long way towards qualifying for that descriptor." —East-West Review
Penguin Classics, 9780141198309, 480pp.
Publication Date: December 29, 2015
About the Author
Robert Chandler is an acclaimed poet and translator. His many translations from Russian include works by Aleksandr Pushkin, Nikolay Leskov, Vasily Grossman, and Andrey Platonov; his anthologies Russian Short Stories from Pushkin to Buida and Russian Magic Tales are both published by Penguin Classics.

Irina Mashinski is a bilingual poet and co-founder of the StoSvet literary project. Her most recent collection is 2013's Ophelia i masterok [Ophelia and the Trowel].

Boris Dralyuk is a Lecturer in Russian at the University of St Andrews and translator of many books from Russian, including, most recently, Isaac Babel's Red Cavalry (2014).