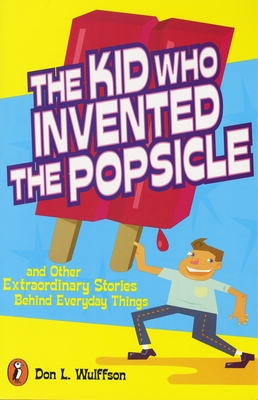 The Kid Who Invented the Popsicle (Paperback)
And Other Surprising Stories about Inventions
Puffin Books, 9780141302041, 128pp.
Publication Date: March 1, 1999
* Individual store prices may vary.
Description
Discover the extraordinary stories behind everyday things! 

Did you know that the ice cream sundae was invented because of a law forbidding the sale of ice cream on Sundays? Or that the first motorcycle was really just a tricycle with a motor? Would you believe that Mickey Mouse started out as a rabbit? Arranged in alphabetical order with anecdotal, fun-to-read text, this fascinating book is packed with the stories behind these and over 100 more inventions.

"[An] entertaining volume of trivia." --Kirkus Reviews
About the Author
Don L. Wulffson is the author of more than forty books, including Point Blank, The Kid Who Invented the Popsicle, Future Fright, and The Upside-Down Ship. He lives in Northridge, California.
Praise For The Kid Who Invented the Popsicle: And Other Surprising Stories about Inventions…
"Jones's titles convey cohesive ideas about the importance of accidental discoveries."--School Library Journal

"Readers learn that some dice were loaded in ancient Egypt; that baseball caps evolved from imitations of Civil War military hats; that flyswatters must have holes to be effective; that some inventions might have flopped without a push in the public-relations department. Such stories are well-suited to sharing."--Kirkus Reviews