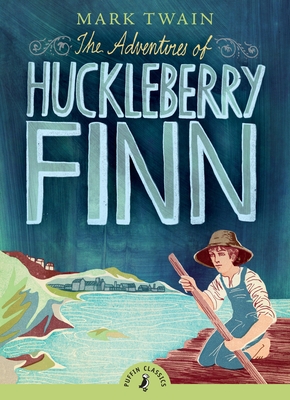 The Adventures of Huckleberry Finn (Puffin Classics) (Paperback)
Puffin Books, 9780141321097, 480pp.
Publication Date: March 27, 2008
Other Editions of This Title:
Paperback (1/31/2018)
Paperback (12/16/2016)
Paperback (10/6/2016)
Paperback (5/2/2017)
Paperback (10/19/2016)
Paperback (10/13/2017)
Paperback (1/8/2017)
Paperback (11/28/2017)
Paperback (12/29/2015)
Paperback (7/4/2018)
Paperback (9/6/2018)
Paperback (11/24/2015)
Paperback (10/3/2019)
Paperback (7/24/2019)
Paperback (10/11/2017)
Paperback (10/10/2018)
Paperback (9/16/2015)
Paperback (7/26/2012)
Paperback (1/1/2016)
Paperback (4/4/2018)
* Individual store prices may vary.
Description
Huckleberry Finn had a tough life with his drunk father until an adventure with Tom Sawyer changed everything. But when Huck's dad returns and kidnaps him, he must escpe down the Mississippi river with runaway slave, Jim. They encounter trouble at every turn, from floods and gunfights to armed bandits and the long arm of the law. Through it all the friends stick together - but can Huck and Tom free Jim from slavery once and for all? With an inspirational introduction by Darren Shan, The Adventures of Huckleberry Finn is one of the twenty wonderful classic stories being relaunched in Puffin Classics in March 2015.
About the Author
Mark Twain is the pseudonym of Samuel Langhorne Clemens (1835-1910). He was born in Missouri, USA. He travelled around America, seeking fame and fortune before returning to become a steam-boat pilot on the Mississippi River, where he had grown up. Later he became a successful journalist and travel writer. In 1876 The Adventures of Tom Sawyer, inspired by his own childhood, was published, followed eight years later by The Adventures of Huckleberry Finn.
Praise For The Adventures of Huckleberry Finn (Puffin Classics)…
"All modern American literature comes from one book by Mark Twain called Huckleberry Finn. It's the best book we've had." --Ernest Hemingway