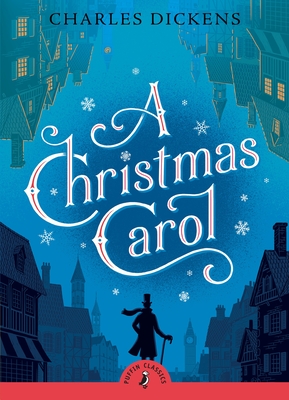 A Christmas Carol (Puffin Classics)
Paperback

* Individual store prices may vary.
Other Editions of This Title:
Digital Audiobook (10/8/2016)
Digital Audiobook (1/5/2010)
Digital Audiobook (11/30/2007)
Digital Audiobook (1/5/2010)
Digital Audiobook (11/9/2011)
Digital Audiobook (1/12/2015)
Digital Audiobook (2/19/2014)
Digital Audiobook (11/6/2017)
Digital Audiobook (11/4/2019)
Digital Audiobook (3/30/2018)
Digital Audiobook (12/1/2018)
Digital Audiobook (11/3/2019)
Digital Audiobook (11/30/2014)
Digital Audiobook (11/10/2014)
Digital Audiobook (12/8/2020)
Digital Audiobook (11/19/2016)
Digital Audiobook (4/24/2020)
Description
A Christmas Carol is one of Charles Dickens' most loved books - a true classic and a Christmas time must-read. Ebenezer Scrooge is a mean, miserable, bitter old man with no friends. One cold Christmas Eve, three ghosts take him on a scary journey to show him the error of his nasty ways. By visiting his past, present and future, Scrooge learns to love Christmas and the people all around him. With a light-hearted introduction by bestselling author Anthony Horowitz, creator of the highly successful Alex Rider novels, most recently Snakehead. Charles Dickens (1812-70) is one of the most recognized celebrities of English literature. His imagination, wit, mastery of the language and huge creative output single him out as one of the few people who genuinely deserve to be called genius. He had a poverty-stricken childhood and was determined to improve himself. By his early twenties he found a job as a parliamentary reporter and in his spare time wrote sketches of London life for newspapers and magazines. The publication of Pickwick Papers (1836) brought him the fame and fortune he craved. He wrote many other famous books including Oliver Twist, Great Expectations and A Tale of Two Cities.
Puffin Books, 9780141324524, 160pp.
Publication Date: September 11, 2008
About the Author
Charles Dickens was born on February 7, 1812, in Landport, Portsea, England. He died in Kent on June 9, 1870. The second of eight children of a family continually plagued by debt, the young Dickens came to know not only hunger and privation,but also the horror of the infamous debtors' prison and the evils of child labor. A turn of fortune in the shape of a legacy brought release from the nightmare of prison and "slave" factories and afforded Dickens the opportunity of two years' formal schooling at Wellington House Academy. He worked as an attorney's clerk and newspaper reporter until his Sketches by Boz (1836) and The Pickwick Papers (1837) brought him the amazing and instant success that was to be his for the remainder of his life. In later years, the pressure of serial writing, editorial duties, lectures, and social commitments led to his separation from Catherine Hogarth after twenty-three years of marriage. It also hastened his death at the age of fifty-eight, when he was characteristically engaged in a multitude of work.