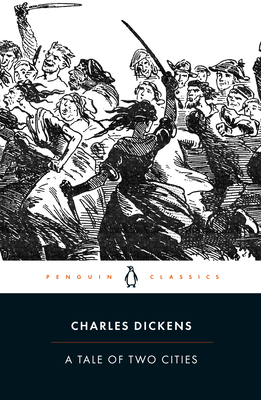 A Tale of Two Cities
Paperback

* Individual store prices may vary.
Other Editions of This Title:
Paperback (7/30/2013)
Paperback (6/10/2017)
Paperback (5/30/2017)
Paperback (12/11/2017)
Paperback (10/16/2018)
Paperback (6/17/2013)
Paperback (7/23/2018)
Paperback (5/26/2009)
Paperback (6/1/2019)
Paperback (5/30/2017)
Paperback (10/5/2018)
Paperback (10/5/2018)
Paperback (7/22/2010)
Paperback (8/20/2015)
Paperback (7/26/2017)
Paperback (9/19/2018)
Paperback (8/15/2018)
Paperback (7/18/2018)
Paperback (3/12/2019)
Paperback (5/31/2018)
Description
'It was the best of times, it was the worst of times...'

Charles Dickens's A Tale of Two Cities portrays a world on fire, split between Paris and London during the brutal and bloody events of the French Revolution. After eighteen years as a political prisoner in the Bastille the aging Dr Manette is finally released and reunited with his daughter in England. There, two very different men, Charles Darnay, an exiled French aristocrat, and Sydney Carton, a disreputable but brilliant English lawyer, become enmeshed through their love for Lucie Manette. From the tranquil lanes of London, they are all drawn against their will to the vengeful, bloodstained streets of Paris at the height of the Reign of Terror and soon fall under the lethal shadow of La Guillotine. This edition uses the text as it appeared in its first serial publication in 1859 to convey the full scope of Dickens's vision, and includes the original illustrations by H.K. Browne ('Phiz'). Richard Maxwell's introduction discusses the intricate interweaving of epic drama with personal tragedy.

For more than seventy years, Penguin has been the leading publisher of classic literature in the English-speaking world. With more than 1,700 titles, Penguin Classics represents a global bookshelf of the best works throughout history and across genres and disciplines. Readers trust the series to provide authoritative texts enhanced by introductions and notes by distinguished scholars and contemporary authors, as well as up-to-date translations by award-winning translators.
Praise For A Tale of Two Cities…
"[A Tale of Two Cities] has the best of Dickens and the worst of Dickens: a dark, driven opening, and a celestial but melodramatic ending; a terrifyingly demonic villainess and (even by Dickens' standards) an impossibly angelic heroine. Though its version of the French Revolution is brutally simplified, its engagement with the immense moral themes of rebirth and terror, justice, and sacrifice gets right to the heart of the matter . . . For every reader in the past hundred and forty years and for hundreds to come, it is an unforgettable ride."–from the Introduction by Simon Schama
Penguin Classics, 9780141439600, 544pp.
Publication Date: May 27, 2003
About the Author
Charles Dickens was born on February 7, 1812, in Landport, Portsea, England. He died in Kent on June 9, 1870. The second of eight children of a family continually plagued by debt, the young Dickens came to know not only hunger and privation,but also the horror of the infamous debtors' prison and the evils of child labor. A turn of fortune in the shape of a legacy brought release from the nightmare of prison and "slave" factories and afforded Dickens the opportunity of two years' formal schooling at Wellington House Academy. He worked as an attorney's clerk and newspaper reporter until his Sketches by Boz (1836) and The Pickwick Papers (1837) brought him the amazing and instant success that was to be his for the remainder of his life. In later years, the pressure of serial writing, editorial duties, lectures, and social commitments led to his separation from Catherine Hogarth after twenty-three years of marriage. It also hastened his death at the age of fifty-eight, when he was characteristically engaged in a multitude of work.

Richard Maxwell teaches in the Comparative Literature & English departments at Yale.