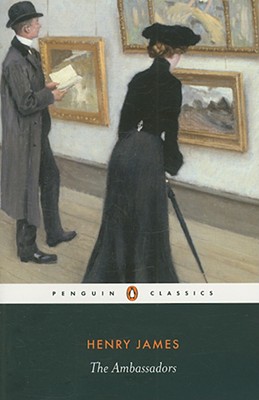 The Ambassadors (Paperback)
Penguin Books, 9780141441320, 495pp.
Publication Date: July 1, 2008
Description
The greatest expression of his talent for witty, observant explorations of what it means to 'live well', Henry James's The Ambassadors is edited with an introduction and notes by Adrian Poole in Penguin Classics.

Concerned that her son Chad may have become involved with a woman of dubious reputation, the formidable Mrs Newsome sends her 'ambassador' Strether from Massachusetts to Paris to extricate him. Strether's mission, however, is gradually undermined as he falls under the spell of the city and finds Chad refined rather than corrupted by its influence and that of his charming companion, Madame de Vionnet, and her daughter, Jeanne. As the summer wears on, Mrs Newsome concludes that she must send another envoy to confront the errant Chad - and a Strether whose view of the world has changed profoundly. One of the greatest of James's late works, The Ambassadors is a subtle and witty exploration of different responses to a European environment.
This edition of The Ambassadors includes a chronology, further reading, glossary, notes and an introduction discussing the novel in the context of James's other works on Americans in Europe, and the novel's portrayal of Paris.
About the Author
Henry James (1843-1916), born in New York City, was the son of noted religious philosopher Henry James, Sr., and brother of eminent psychologist and philosopher William James. He spent his early life in America and studied in Geneva, London and Paris during his adolescence to gain the worldly experience so prized by his father. He lived in Newport, went briefly to Harvard Law School, and in 1864 began to contribute both criticism and tales to magazines. In 1869, and then in 1872-74, he paid visits to Europe and began his first novel, Roderick Hudson. Late in 1875 he settled in Paris, where he met Turgenev, Flaubert, and Zola, and wrote The American (1877). In December 1876 he moved to London, where two years later he achieved international fame with Daisy Miller. Other famous works include Washington Square (1880), The Portrait of a Lady (1881), The Princess Casamassima(1886), The Aspern Papers (1888), The Turn of the Screw (1898), and three large novels of the new century, The Wings of the Dove (1902), The Ambassadors (1903) and The Golden Bowl (1904). In 1905 he revisited the United States and wrote The American Scene (1907). During his career he also wrote many works of criticism and travel. Although old and ailing, he threw himself into war work in 1914, and in 1915, a few months before his death, he became a British subject. In 1916 King George V conferred the Order of Merit on him. He died in London in February 1916.Philip Horne has spent a decade looking at the thousands of James's letters in archives in the United States and Europe. A Reader in English Literature at University College, London, he is the author of Henry James and Revision and the editor of the Penguin Classics edition of James's The Tragic Muse.
Advertisement