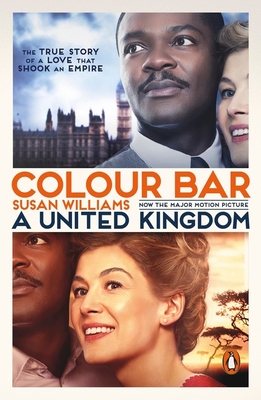 Colour Bar
A United Kingdom
Paperback

* Individual store prices may vary.
Other Editions of This Title:
Paperback (6/1/2007)
Description
London, 1945: the heir apparent to the kingship of Bechuanaland (later Botswana) arrives in Britain to complete his legal studies. Seretse Khama, an urbane 24-year-old, educated like Mandela at Fore Hare, is welcomed into the elite world of the Inner Temple in London. But then, in 1947, he does something that will change the course of his life, and that of his country, forcing him into six long years of exile: he falls in love with a white British woman, Ruth Williams. Drawing on a mass of previously classified records, Susan Williams tells Seretse and Ruth's story—an astonishing account of how the British Government conspired with apartheid South Africa and Rhodesia to prevent the mixed-race royal couple returning home. This is a shocking account of a shameful period of British history: overt racism on the streets of London and the corridors of Whitehall, and of appeasement to apartheid South Africa. But it is also an inspiring, triumphant tale of hope, courage, and true love, as with tenacity and great dignity Seretse and Ruth and the Bangwato people overcome prejudice in their fight for justice.
Praise For Colour Bar: A United Kingdom…
"A story of forgiveness and healing . . . as relevant today as when the whole drama was being played out." —Alexander McCall Smith
"A gripping, heroic and darkly comic story of fading imperium." —Sunday Times
"Elegantly written . . . Williams has done a masterly job." —Guardian
"An inspiring story ... [an] excellent and shaming book." —Literary Review
"Wonderful . . . Deeply researched and grippingly written." —
Independent
"A splendid book." —
Spectator
"A pacy but judicious writer . . . her portrait of a love affair exposes the madness of the racial bar more effectively than a thousand anti-apartheid pamphlets." —
Tablet
"A hugely readable book. I couldn't put it down." —
Saturday Independent
"As exciting as any detective story." —
Art Beat
"A fantastic love story of modern times, one that is almost Shakespearian in its drama, intrigue and pathos." —
Tonight
Penguin UK, 9780141985701, 432pp.
Publication Date: February 15, 2017
About the Author
Susan Williams is a historian and the author of many books, including Spies in the Congo and Who Killed Hammarskjöld?: The UN, the Cold War and White Supremacy in Africa, which triggered a new UN investigation in 2015 into the death of the Secretary General. She is a Senior Research Fellow at the Institute of Commonwealth Studies, School of Advanced Study, University of London.