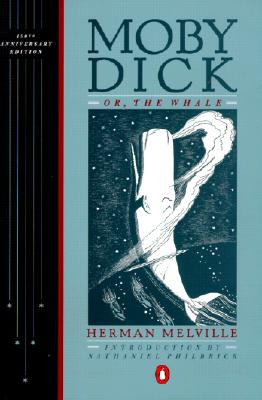 Moby Dick
Or the Whale
Paperback

* Individual store prices may vary.
Other Editions of This Title:
Paperback (4/30/2016)
Paperback (5/11/2015)
Paperback (11/2/2015)
Paperback, Spanish (12/20/2000)
Paperback (8/10/2015)
Paperback (4/18/2010)
Paperback (11/18/2018)
Paperback, Spanish (5/3/2016)
Paperback (6/20/2016)
Paperback (3/16/2017)
Paperback (1/6/2016)
Paperback (5/14/2014)
Paperback (10/31/2018)
Paperback (6/24/2014)
Paperback (5/11/2015)
Paperback (8/26/2018)
Paperback (4/5/2016)
Paperback (8/8/2015)
Paperback (3/7/2012)
Paperback (6/14/2017)
Description
Herman Melville's masterpiece in a deluxe 150th anniversary edition, one of the greatest works of imagination in literary history Over a century and a half after its publication, Moby-Dick still stands as an indisputable literary classic. It is the story of an eerily compelling madman pursuing an unholy war against a creature as vast and dangerous and unknowable as the sea itself. But more than just a novel of adventure, more than an encyclopedia of whaling lore and legend, Moby-Dick is a haunting, mesmerizing, and important social commentary populated with several of the most unforgettable and enduring characters in literature. Never losing its cultural prescence, Melville's nautical epic has inspired many films over the years, including the film adaptation of Nathanael Philbrick's In the Heart of the Sea, starring Chris Hemsworth, Cillian Murphy, Ben Wishaw, and Brendan Gleeson, and directed by Ron Howard. Written with wonderfully redemptive humor, Moby-Dick is a profound and timeless inquiry into character, faith, and the nature of perception. This Penguin Classics deluxe edition features a foreword by Nathaniel Philbrick and prints the Northwestern-Newberry edition of Melville's text, approved by the Center for Scholarly Editions and the Center for Editions of American Authors of the MLA. For more than seventy years, Penguin has been the leading publisher of classic literature in the English-speaking world. With more than 1,700 titles, Penguin Classics represents a global bookshelf of the best works throughout history and across genres and disciplines. Readers trust the series to provide authoritative texts enhanced by introductions and notes by distinguished scholars and contemporary authors, as well as up-to-date translations by award-winning translators.
Penguin Books, 9780142000083, 624pp.
Publication Date: September 1, 2001
About the Author
Herman Melville was born in August 1, 1819, in New York City, the son of a merchant. Only twelve when his father died bankrupt, young Herman tried work as a bank clerk, as a cabin-boy on a trip to Liverpool, and as an elementary schoolteacher, before shipping in January 1841 on the whaler Acushnet, bound for the Pacific. Deserting ship the following year in the Marquesas, he made his way to Tahiti and Honolulu, returning as ordinary seaman on the frigate United States to Boston, where he was discharged in October 1844. Books based on these adventures won him immediate success. By 1850 he was married, had acquired a farm near Pittsfield, Massachussetts (where he was the impetuous friend and neighbor of Nathaniel Hawthorne), and was hard at work on his masterpiece Moby-Dick. Literary success soon faded; his complexity increasingly alienated readers. After a visit to the Holy Land in January 1857, he turned from writing prose fiction to poetry. In 1863, during the Civil War, he moved back to New York City, where from 1866-1885 he was a deputy inspector in the Custom House, and where, in 1891, he died. A draft of a final prose work, Billy Budd, Sailor, was left unfinished and uncollated, packed tidily away by his widow, where it remained until its rediscovery and publication in 1924.Nathaniel Philbrick, is a leading authority on the history of Nantucket Island. His In the Heart of the Sea won the National Book Award. His latest book is Sea of Glory, about the epic U.S. Exploring Expedition of 1838-1842. His other books include Away off Shore: Nantucket Island and Its People, 1602-1890 (which Russell Baker called "indispensable") and Abram's Eyes: The Native American Legend of Nantucket Island ("a classic of historical truthtelling," according to Stuart Frank, director of the Kendall Whaling Museum). He has written an introduction to a new edition of Joseph Hart's Miriam Coffin, or The Whale Fisherman, a Nantucket novel (first published in 1834) that Melville relied upon for information about the island when writing Moby Dick.Philbrick, a champion sailboat racer, has also written extensively about sailing, including The Passionate Sailor (1987) and the forthcoming Second Wind: A Sunfish Sailor's Odyssey. He was editor in chief of the classic Yaahting: A Parody (1984).In his role as director of the Egan Institute of Maritime Studies, Philbrick, who is also a research fellow at the Nantucket Historical Association, gives frequent talks about Nantucket and sailing. He has appeared on "NBC Today Weekend," A&E's "Biography" series, and National Public Radio and has served as a consultant for the movie "Moby Dick," shown on the USA Network. He received a bachelor of Arts from Brown University and a Master of Arts in American Literature from Duke. He lives on Natucket with his wife and two children.
or
Not Currently Available for Direct Purchase