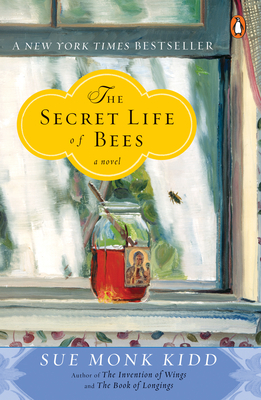 The Secret Life of Bees
Paperback

* Individual store prices may vary.
Other Editions of This Title:
Prebound (1/28/2003)
Hardcover (5/7/2013)
Prebound (1/1/2003)
Digital Audiobook, Spanish, Castilian (11/24/2021)
Digital Audiobook (1/27/2003)
CD-Audio (1/2/2014)
Paperback (9/1/2008)
Hardcover (10/10/2002)
Description
The multi-million bestselling novel about a young girl's journey towards healing and the transforming power of love, from the award-winning author of The Invention of Wings and The Book of Longings

Set in South Carolina in 1964, The Secret Life of Bees tells the story of Lily Owens, whose life has been shaped around the blurred memory of the afternoon her mother was killed. When Lily's fierce-hearted Black "stand-in mother," Rosaleen, insults three of the deepest racists in town, Lily decides to spring them both free. They escape to Tiburon, South Carolina—a town that holds the secret to her mother's past. Taken in by an eccentric trio of Black beekeeping sisters, Lily is introduced to their mesmerizing world of bees and honey, and the Black Madonna. This is a remarkable novel about divine female power, a story that women will share and pass on to their daughters for years to come.
Praise For The Secret Life of Bees…
"A moving first novel...Lily is an authentic and winning character and her story is compellingly  told. The bees presage her journey toward self-acceptance, faith and freedom that is at the heart of this novel." —
USA Today
"Inspiring. Sue Monk Kidd is a direct literary descendant of Carson McCullers." —The Baltimore Sun 
"Fully imagined...the core of this story is Lily's search for a mother, and she finds one in a place she never expected." —The New York Times Book Review
"This is the story of a young girl's journey toward healing, and of the intrinsic sacredness of living in the world. Simply wonderful." —Anne Rivers Siddons
""The stunning metaphors and realistic characters are so poignant they will bring tears to your eyes." —Library Journal
"Kidd has written a triumphant coming-of-age novel that speaks to the universal need for love" —New Orleans Times-Picayune
"The chapters...dance on the edges of 'Magical Realism,' that blend of the fabulous and the ordinary that can invest a tale with a sense of wonderment, as is the case here." —Richmond Times-Dispatch
"I am amazed that this moving, original, and accomplished book is a first novel. It is wonderfully written, powerful, poignant, and humorous, and deliciously eccentric. Do read it." —Joanna Trollope
"A wonderful novel about mothers and daughters and the transcendent power of love." —Connie May Fowler
"A truly original Southern voice." —Anita Shreve
"It's as if Kidd loaded up a take-home plate with treats, and you said 'Oh, I couldn't,' and then scarfed it down in the car on the way home." —Entertainment Weekly
"The tale of one motherless daughter's discovery of what family really means—and of the strange and wondrous places we love." —The Washington Post
Penguin Books, 9780142001745, 352pp.
Publication Date: January 28, 2003
About the Author
Sue Monk Kidd's first novel, The Secret Life of Bees, spent more than one hundred weeks on the New York Times bestseller list, has sold more than six million copies in the United States, and was turned into an award-winning major motion picture, and has been translated into thirty-six languages. Her second novel, The Mermaid Chair, was a number-one New York Times bestseller and adapted into a television movie. Her third novel, The Invention of Wings, was a number-one New York Times bestseller and a selection of Oprah's Book Club 2.0. She is also the author of several acclaimed memoirs, including the New York Times bestseller Traveling with Pomegranates, written with her daughter, Ann Kidd Taylor. She lives in Florida.  
1. Were you surprised to learn that T. Ray used to be different, that once he truly loved Deborah? How do you think Deborah's leaving affected him? Did it shed any light on why T. Ray was so cruel and abusive to Lily?
2. Had you ever heard of "kneeling on grits"? What qualities did Lily have that allowed her to survive, endure, and eventually thrive, despite T. Ray?
3. Who is the queen bee in this story?
4. Lily's relationship to her dead mother was complex, ranging from guilt to idealization, to hatred, to acceptance. What happens to a daughter when she discovers her mother once abandoned her? Is Lily right—would people generally rather die than forgive? Was it harder for Lily to forgive her mother or herself?
5. Lily grew up without her mother, but in the end she finds a house full of them. Have you ever had a mother figure in your life who wasn't your true mother? Have you ever had to leave home to find home?
6. What compelled Rosaleen to spit on the three men's shoes? What does it take for a person to stand up with conviction against brutalizing injustice? What did you like best about Rosaleen?
7. Had you ever heard of the Black Madonna? What do you think of the story surrounding the Black Madonna in the novel? How would the story be different if it had been a picture of a white Virgin Mary? Do you know women whose lives have been deepened or enriched by a connection to an empowering Divine Mother?
8. Why is it important that women come together? What did you think of the "Calendar Sisters" and the Daughters of Mary? How did being in the company of this circle of females transform Lily?
9. May built a wailing wall to help her come to terms with the pain she felt. Even though we don't have May's condition, do we also need "rituals," like wailing walls, to help us deal with our grief and suffering?
10. How would you describe Lily and Zach's relationship? What drew them together? Did you root for them to be together?
11. Project into the future. Does Lily ever see her father again? Does she become a beekeeper? A writer? What happens to Rosaleen? What happens to Lily and Zach? Who would Zach be today?