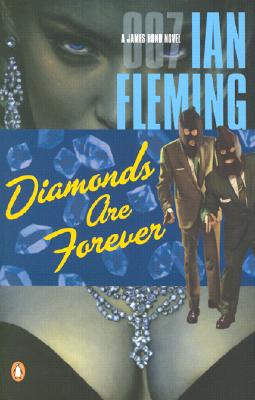 Diamonds Are Forever (Paperback)
Penguin Books, 9780142002056, 240pp.
Publication Date: December 31, 2002
* Individual store prices may vary.
or
Not Currently Available for Direct Purchase
Description
"Listen, Bond," said Tiffany Case. "It'd take more than Crabmeat Ravigotte to get me into bed with a man. In any event, since it's your check, I'm going to have caviar, and what the English call "cutlets", and some pink champagne. I don't often date a good-looking Englishman and the dinner's going to live up to the occasion."
Meet Tiffany Case, a cold, gorgeous, devil-may-care blonde; the kind of girl you could get into a lot of trouble with—if you wanted. She stands between James Bond and the leaders of a diamond-smuggling ring that stretches from Africa via London to the States. Bond uses her to infiltrate this gang, but once in America the hunter becomes the hunted. Bond is in real danger until help comes from an unlikely quarter, the ice-maiden herself …
About the Author
Ian Fleming (1908-1964), creator of the world's best-known secret agent, is the author of fourteen James Bond books. Born in London in 1908 and educated at Eton and Sandhurst, he became the Reuters Moscow correspondent in 1929. In the spring of 1939, Fleming went back to Moscow as a special correspondent for the London Times. In June of that same year, he joined Naval Intelligence and served throughout World War II, finally earning the rank of Commander, RNVSR (Sp.). Much of the James Bond material was drawn directly from Fleming's experiences as an intelligence officer. Later, Fleming became a consultant on foreign affairs for the London Sunday Times, by which time he had become far better known as the creator of James Bond.
Praise For Diamonds Are Forever…
"Mr. Fleming is in a class by himself...immense detail, elaborate settings and continually mounting tension, flavored with sex, brutality and sudden death." —Daily Mail


Advertisement