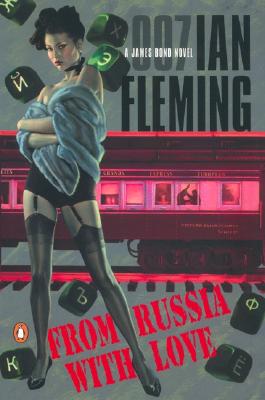 From Russia with Love (Paperback)
Penguin Books, 9780142002070, 272pp.
Publication Date: December 31, 2002
Other Editions of This Title:
Compact Disc (1/1/2009)
Compact Disc (1/1/2000)
Audio Cassette (6/1/2002)
* Individual store prices may vary.
Description
Name: Bond, James. Height: 183 cm, weight: 76 kg; slim build; eyes: blue; hair: black; scar down right cheek & on left shoulder; all-round athlete; expert pistol shot, boxer, knife-thrower; does not use disguises. Languages: French and German. Smokes heavily (NB: special cigarettes with three gold bands); vices: drink, but not to excess, and women.
Every major foreign government organization has a file on British secret agent James Bond. Now, Russia's lethal SMERSH organization has targeted him for elimination. SMERSH has the perfect bait in the irresistible Tatiana Romanova, who lures 007 to Istanbul promising the top-secret Spektor cipher machine. But when Bond walks willingly into the trap, a game of cross and double-cross ensues, with Bond both the stakes and the prize.
About the Author
Ian Fleming (1908-1964), creator of the world's best-known secret agent, is the author of fourteen James Bond books. Born in London in 1908 and educated at Eton and Sandhurst, he became the Reuters Moscow correspondent in 1929. In the spring of 1939, Fleming went back to Moscow as a special correspondent for the London Times. In June of that same year, he joined Naval Intelligence and served throughout World War II, finally earning the rank of Commander, RNVSR (Sp.). Much of the James Bond material was drawn directly from Fleming's experiences as an intelligence officer. Later, Fleming became a consultant on foreign affairs for the London Sunday Times, by which time he had become far better known as the creator of James Bond.
or
Not Currently Available for Direct Purchase