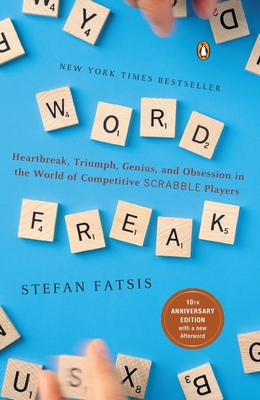 Word Freak
Heartbreak, Triumph, Genius, and Obsession in the World of Competitive ScrabbleP layers
Paperback

* Individual store prices may vary.
Description
Scrabble may be truly called America's game. But for every group of "living-room players" there is someone who is "at one with the board." In
Word Freak
, Stefan Fatsis introduces readers to those few, exploring the underground world of colorful characters for which the Scrabble game is life-playing competitively in tournaments across the country. It is also the story of how the Scrabble game was invented by an unemployed architect during the Great Depression and how it has grown into the hugely successful, challenging, and beloved game it is today. Along the way, Fatsis chronicles his own obsession with the game and his development as a player from novice to expert. More than a book about hardcore Scrabble players,
Word Freak
is also an examination of notions of brilliance, memory, language, competition, and the mind that celebrates the uncanny creative powers in us all.
A Book Sense 76 pick.
Praise For Word Freak: Heartbreak, Triumph, Genius, and Obsession in the World of Competitive ScrabbleP layers…
"An engrossing, inside look at the strange and rareified world of competitive Scrabble. It's a pleasure to experience vicariously a level of play that I'll never achieve!" —
Will Shortz
,
New York Times
crossword editor and puzzle master of NPR's
Weekend Edition Sunday
"Fatsis . . . writes with affectionate zeal about the game and the fraternity of brilliant, lonely, and otherwise dysfunctional oddballs it attracts." —The New York Times
"Word Freak has an impassioned subtitle, and it lives up to every word." —People
"Fatsis is a wonderful writer." —The New York Times Book Review
"A can't-put-it-down narrative that dances between memoir and reportage." —Los Angeles Times
"Funny, thoughtful, character-rich, unchallengeably winning writing." —The Atlantic Monthly
"While a book about Scrabble sounds as appealing as a work on the beauties of watching paint dry,  Fatsis brings drama and suspense to the game....His crisp reporting is enough to make the reader hyperventilate." —The Atlanta Journal-Constitution
"Word Freak is a fascinating look into a thriving, cultish world that's best admired from an armchair." —The Christian Science Monitor
"Fatsis's marvelously absorbing excursion into the world of Scrabble...is a walk on the wild side of words and ventures into the zone where language and mathematics intersect.... Fatsis clearly doesn't regard Scrabble as just 'a board game,' and he tells us its history in loving detail." —San Jose Mercury News
Penguin Books, 9780142002261, 416pp.
Publication Date: July 30, 2002
About the Author
Stefan Fatsis is the bestselling author of Word Freak: Heartbreak, Triumph, Genius, and Obsession in the World of Competitive Scrabble Players and Wild and Outside: How a Renegade Minor League Revived the Spirit of Baseball in America's Heartland. He reported on sports for more than a decade for The Wall Street Journal and talks about sports every week on National Public Radio's All Things Considered. His work also has appeared on the websites Slate and Deadspin. Stefan lives in Washington, D.C., with his wife, Melissa Block, and their daughter, Chloe.