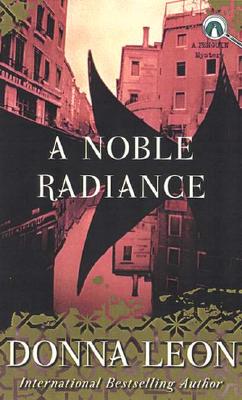 A Noble Radiance (Mass Market Paperback)
Penguin Books, 9780142003190, 304pp.
Publication Date: August 26, 2003
Other Editions of This Title:
Paperback (2/12/2013)
Compact Disc (8/1/2001)
Paperback (2/24/2009)
Paperback (8/1/2009)
* Individual store prices may vary.
Description
Donna Leon has topped European bestseller lists for more than a decade with a series of mysteries featuring clever Commissario Guido Brunetti. Always ready to bend the rules to uncover the threads of a crime, Brunetti manages to maintain his integrity while maneuvering through a city rife with politics, corruption, and intrigue.

In A Noble Radiance a new landowner is summoned urgently to his house not far from Venice when workmen accidentally unearth a macabre grave. The human corpse is badly decomposed, but a ring found nearby proves to be a first clue that reopens an infamous case of kidnapping involving one of Venice's most aristocratic families. Only Commissario Brunetti can unravel the clues and find his way into both the heart of patrician Venice and that of a family grieving for their abducted son.
About the Author
A New Yorker of Irish/Spanish descent, Donna Leon first went to Italy in 1965, returning regularly over the next decade or so while pursuing a career as an academic in the States and then later in Iran, China and finally Saudi Arabia. It was after a period in Saudi Arabia, which she found 'damaging physically and spiritually' that Donna decided to move to Venice, where she has now lived for over twenty years.Her debut as a crime fiction writer began as a joke: talking in a dressing room in Venice's opera-house La Fenice after a performance, Donna and a singer friend were vilifying a particular German conductor. From the thought 'why don't we kill him?' and discussion of when, where and how, the idea for Death at La Fenice took shape, and was completed over the next four months. Donna Leon is the crime reviewer for the London Sunday Times and is an opera expert. She has written the libretto for a comic opera, entitled Dona Gallina. Set in a chicken coop, and making use of existing baroque music, Donna Gallina was premiered in Innsbruck. Brigitte Fassbaender, one of the great mezzo-sopranos of our time, and now head of the Landestheater in Innsbruck, agreed to come out of retirement both to direct the opera and to play the part of the witch Azuneris (whose name combines the names of the two great Verdi villainesses Azucena and Amneris).
Praise For A Noble Radiance…
"A splendid series with a backdrop of the city so vivid you can almost smell it." (The Sunday Telegraph)

"An evocative peep into the dark underworld of the beauteous city." (Time Out, London)
or
Not Currently Available for Direct Purchase