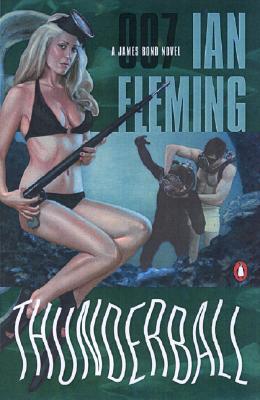 Thunderball (Paperback)
Penguin Books, 9780142003244, 272pp.
Publication Date: May 27, 2003
Other Editions of This Title:
Compact Disc (4/1/2009)
Compact Disc (2/1/2009)
* Individual store prices may vary.
Description
"The girl looked him up and down. He had dark, rather cruel good looks and very clear, blue-grey eyes. He was wearing a very dark-blue lightweight single-breasted suit over a cream silk shirt and a black knitted silk tie. Despite the heat, he looked cool and clean. 'And who might you be?' she asked sharply. 'My name's Bond, James Bond ...'"
When a stranger arrives in the Bahamas, the locals barely turn their heads, seeing another ex-pat with money to burn at the casino tables. But James Bond has more than money on his mind: he's got less than a week to find two stolen atom bombs hidden among the coral reefs. While acting the playboy, Bond meets Domino, sultry plaything of secretive treasure hunter Emilio Largo. In getting close to this gorgeous Italian girl, Bond hopes to learn more about Largo's hidden operation ...
About the Author
Ian Fleming (1908-1964), creator of the world's best-known secret agent, is the author of fourteen James Bond books. Born in London in 1908 and educated at Eton and Sandhurst, he became the Reuters Moscow correspondent in 1929. In the spring of 1939, Fleming went back to Moscow as a special correspondent for the London Times. In June of that same year, he joined Naval Intelligence and served throughout World War II, finally earning the rank of Commander, RNVSR (Sp.). Much of the James Bond material was drawn directly from Fleming's experiences as an intelligence officer. Later, Fleming became a consultant on foreign affairs for the London Sunday Times, by which time he had become far better known as the creator of James Bond.
or
Not Currently Available for Direct Purchase