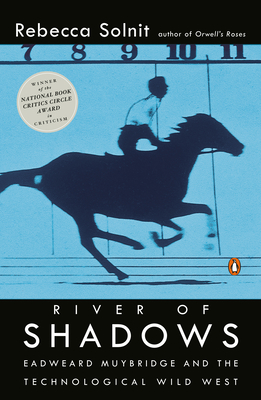 River of Shadows
Eadweard Muybridge and the Technological Wild West
Paperback

* Individual store prices may vary.
Description
Winner of the National Book Critics Circle Award for Criticism and the Mark Lynton History Prize

Through the story of the pioneering photographer Eadweard Muybridge, the author of Recollections of My Nonexistence explores what it was about California in the late 19th-century that enabled it to become such a center of technological and cultural innovation

The world as we know it today began in California in the late 1800s, and Eadweard Muybridge had a lot to do with it. This striking assertion is at the heart of Rebecca Solnit's new book, which weaves together biography, history, and fascinating insights into art and technology to create a boldly original portrait of America on the threshold of modernity. The story of Muybridge—who in 1872 succeeded in capturing high-speed motion photographically—becomes a lens for a larger story about the acceleration and industrialization of everyday life. Solnit shows how the peculiar freedoms and opportunities of post–Civil War California led directly to the two industries—Hollywood and Silicon Valley—that have most powerfully defined contemporary society.
Praise For River of Shadows: Eadweard Muybridge and the Technological Wild West…
Praise for River of Shadows:

"Never less than deeply intelligent, and often very close to inspired.  It belongs to that wondrous class of books – like William Gass's On Being Blue and Anne Carson's Eros the Bittersweet – in which an extraordinary mind seizes hold of an unexpected topic and renders it with such confidence, subtlety and grace  that one finds it hard to remember what things looked like before the book appeared in the world." —The New York Times Book Review
 
"Solnit's prose combines in individual paragraphs the imagery of a poet, the ideas of the theoretician, the rhythm of a thoroughbred and the force of a Southern Pacific locomotive." —The San Francisco Chronicle
 
"This portrait of a man, a place, a time, a technology, an art and various other matters that elude encapsulation shines on nearly every page with rigor and gusto and is consistently a delight to read." —The Los Angeles Times

Penguin Books, 9780142004104, 320pp.
Publication Date: March 2, 2004
About the Author
Rebecca Solnit is the author of numerous books, including Hope in the Dark, River of Shadows: Eadweard Muybridge and the Technological Wild West, Wanderlust: A History of Walking, and As Eve Said to the Serpent: On Landscape, Gender, and Art, which was nominated for the National Book Critics Circle Award in Criticism. In 2003, she received the prestigious Lannan Literary Award.