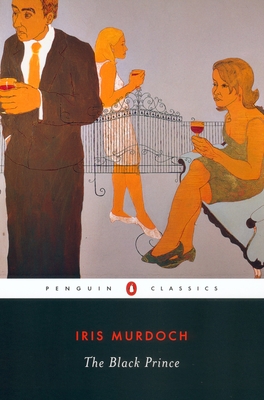 The Black Prince
Paperback

* Individual store prices may vary.
Description
Bradley Pearson, an unsuccessful novelist in his late fifties, has finally left his dull office job as an Inspector of Taxes. Bradley hopes to retire to the country, but predatory friends and relations dash his hopes of a peaceful retirement. He is tormented by his melancholic sister, who has decided to come live with him; his ex-wife, who has infuriating hopes of redeeming the past; her delinquent brother, who wants money and emotional confrontations; and Bradley's friend and rival, Arnold Baffin, a younger, deplorably more successful author of commercial fiction. The ever-mounting action includes marital cross-purposes, seduction, suicide, abduction, romantic idylls, murder, and due process of law. Bradley tries to escape from it all but fails, leading to a violent climax and a coda that casts shifting perspectives on all that has preceded.
Praise For The Black Prince…
"One of her best . . . She offers an unusual compound of pleasures: ingenious storytelling, elegant design, the provocations of myth and philosophy." —Lawrence Graver, The New York Times

"An entertainment, but also a profoundly great work of art . . . It's hard to keep my enthusiasm for it quiet—it's such a delightful and deep book at the same time." ―John Williams, The New York Times Book Review (podcast)

"The most self-revelatory . . . of all her dark comedies." —The Guardian

"[A] marvelous, heroic novel [and] a gloriously rich tale." —The Times (London)

"A source of wonder and delight . . . No summary can do justice to the rich intricacy of character and incident with which Miss Murdoch crowds every page." —Spectator

"This is great Murdoch . . . Her humour is all the more achingly funny because she keeps it on the edge of our vision." —The Daily Mail
Penguin Classics, 9780142180112, 448pp.
Publication Date: March 25, 2003
About the Author
Dame Iris Murdoch (1919-1999) was one of the most acclaimed British writers of the twentieth century. Very prolific, she wrote twenty-six novels, four books of philosophy, five plays, a volume of poetry, a libretto, and numerous essays before developing Alzheimer's disease in the mid-1990s. Her novels have won many prizes: the James Tait Black Memorial Prize for The Black Prince, the Whitbread Literary Award for Fiction for The Sacred and Profane Love Machine, and the Booker Prize for The Sea, The Sea. She herself was also the recipient of many esteemed awards: Dame of the Order of the British Empire, the Royal Society of Literature's Companion of Literature award, and the National Arts Club's (New York) Medal of Honor for Literature. In 2008, she was named one of the Times' (London) 50 greatest British writers since 1945.

Martha C. Nussbaum, one of America's most prominent philosophers and public intellectuals, is a professor of classics and law at the University of Chicago.