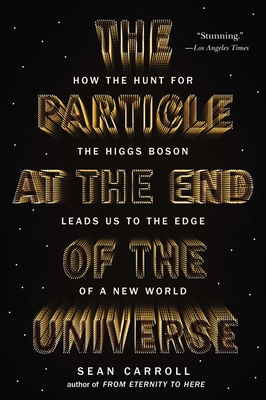 The Particle at the End of the Universe
How the Hunt for the Higgs Boson Leads Us to the Edge of a New World
Paperback

* Individual store prices may vary.
Other Editions of This Title:
Digital Audiobook (12/27/2012)
Digital Audiobook (7/31/2013)
Description
Winner of the prestigious 2013 Royal Society Winton Prize for Science Books

"A modern voyage of discovery." —Frank Wilczek, Nobel Laureate, author of The Lightness of Being

The Higgs boson is one of our era's most fascinating scientific frontiers and the key to understanding why mass exists. The most recent book on the subject, The God Particle, was a bestseller. Now, Caltech physicist Sean Carroll documents the doorway that is opening—after billions of dollars and the efforts of thousands of researchers at the Large Hadron Collider in Switzerland—into the mind-boggling world of dark matter. The Particle at the End of the Universe has it all: money and politics, jealousy and self-sacrifice, history and cutting-edge physics—all grippingly told by a rising star of science writing.
Praise For The Particle at the End of the Universe: How the Hunt for the Higgs Boson Leads Us to the Edge of a New World…
"The science is authoritative, yet bold and lively.  The narrative is richly documented, yet full of human drama.    Carroll's saga pulls you aboard a modern voyage of discovery."
—Frank Wilczek, Nobel Laureate, author of
The Lightness of Being
"In this superb book, Sean Carroll provides a fascinating and lucid look at the most mysterious and important particle in nature, and the experiment that revealed it.   Anyone with an interest in physics should read this, and join him in examining the new worlds of physics to which this discovery may lead."
—Leonard Mlodinow, author of NYT bestseller The Drunkard's Walk


"Carroll tells the story of the particle that everyone has heard of but few of us actually understand. After you read his book—an enticing cocktail of personal anecdote, clever analogy, and a small dose of mind-bending theory—you will truly grasp why the Higgs boson has been sought after for so long by so many. Carroll is a believer in big science asking big questions and his beliefs are infectious and inspiring."
—Morgan Freeman, Actor and Executive Producer of Through the Wormhole
"Carroll is a sure-footed guide through some of the most perplexing and fascinating insights of modern physics."-Brian Greene, author of
The Elegant Universe
—
Brian Greene, author of The Elegant Universe
"[Carroll's] writing is accessible and peppered with cultural refernces... but don't be fooled Carroll isn't afraid to wade into topics that have befuddled even brand-name physicists."-
Wired
—
Wired
"Carroll keeps it real, getting at the complex guts of cutting-edge cosmology in discussions that will challenge fans of Hawking's
A Brief History of Time
."-
The Washington Post
—
The Washington Post
Dutton, 9780142180303, 400pp.
Publication Date: August 27, 2013
About the Author
Sean Carroll, Ph.D., is a theoretical physicist at Caltech. He lives in Los Angeles with his wife, writer Jennifer Ouellette.