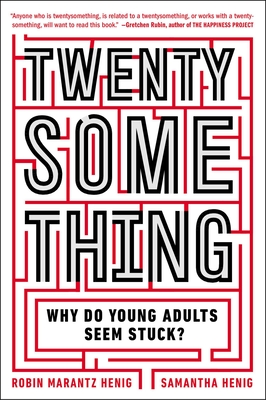 Twentysomething
Why Do Young Adults Seem Stuck?
Paperback

* Individual store prices may vary.
Description
A mother-daughter writing team reports on what's really up with kids today

Science writer Robin Marantz Henig and her daughter, journalist Samantha Henig, offer a smart, comprehensive look at what it's really like to be twentysomething—and to what extent it's different for Millennials than it was for their Baby Boomer parents. The Henigs combine the behavioral science literature for insights into how young people make choices about schooling, career, marriage, and childbearing; how they relate to parents, friends, and lovers; and how technology both speeds everything up
and slows everything down. Packed with often-surprising discoveries, Twentysomething is a two-generation conversation that will become the definitive book on being young in our time.

"The fullest guide through this territory . . . A densely researched report on the state of middleclass young people today, drawn from several data sources and fi­ltered through a comparative lens."
—­The New Yorker
Praise For Twentysomething: Why Do Young Adults Seem Stuck?…
Must Read for November 2012
–
Oprah Magazine
"The fullest guide through this territory...a densely researched report on the state of middle-class young people today."
–
The New Yorker
"Provocative information presented compellingly"
–
Kirkus
"With humor and insight, the authors deftly volley commentary and observation across the generation gap"
–
Publishers Weekly
 "In this provocative, comprehensive, and often very funny examination of the phenomenon of 'twentysomething,' Robin Marantz Henig and Samantha Henig provide the perspective of two generations on this new stage of life. Anyone who is twentysomething, is related to a twentysomething, or works with a twentysomething, will want to read this book."
—Gretchen Rubin, author of The Happiness Project

"Parents will love this fascinating, fact-packed mother-daughter dialogue, and so will their 'emerging adult' sons and daughters. If you think today's young people are another species entirely, you've forgotten way too much about your own early struggles and screwups."
—Katha Pollitt, author of Learning to Drive: And Other Life Stories

"Losing sleep because you think your grown kids are behaving like the characters in the HBO series, 'Girls'? Twentysomething will calm your nerves. Smart, well-researched, down-to-earth and lively, this mother-daughter collaboration is chock full of important insight into the newest generation coming of age."
—Jane Isay, author of Walking on Eggshells and Mom Still Likes You Best

"Mixing rigorous empirical evidence, testimony from twentysomethings themselves, and the astute observations of a mother and her twentysomething daughter, this insightful and engaging book shows us that sound bites and slogans are just not up to the task of capturing life as it being lived by young adults. Highly recommended!"
—Barry Schwartz, Ph.D. author of The Paradox of Choice and Practical Wisdom

"If you want to understand young people in the decade after college graduation—their anxiety about work and relationships, intensity of friendships, and feelings of drive and dislocation—this book is the perfect guide. Robin Marantz Henig and Samantha Henig weave the relevant research into an entertaining narrative, and their mother-daughter patter is a pure delight."
—Emily Bazelon, author of Sticks and Stones: The New Problem of Bullying and How To Solve It
 
Plume, 9780142180341, 304pp.
Publication Date: October 29, 2013
About the Author
Robin Marantz Henig is an author and journalist. She has written eight previous books and is a contributing writer to the New York Times Magazine. Her daughter, Samantha Henig, is a journalist in her mid-twenties. She is the web editor of the New York Times Magazine. They live in New York City.
or
Not Currently Available for Direct Purchase