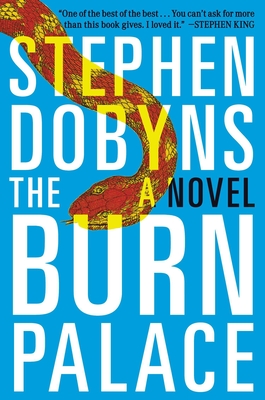 The Burn Palace
Paperback

* Individual store prices may vary.
Other Editions of This Title:
Hardcover, Large Print (7/1/2013)
Hardcover (2/7/2013)
MP3 CD (8/26/2013)
Compact Disc (8/26/2013)
Description
"One of the best of the best...You can't ask for more than this book gives. I loved it." Stephen King
An exquisitely unexpected, delightfully believable exploration of what normal looks like when it goes through the (evil) looking glass. Oprah.com
The sleepy community of Brewster, Rhode Island, is just like any other small American town. It's a place where most of its inhabitants will die blocks from where they were born; where gossip spreads like wildfire, and the big weekend entertainment is the inevitable fight at the local bar. But recently, something out of the ordinary perhaps even supernatural has been stirring. While packs of coyotes gather and a baby is stolen and replaced with a snake, a series of inexplicably violent acts confounds Detective Woody Potter and inspires terror in the locals.
A Richard Russo small-town tableau crossed with a Stephen King thriller, "The Burn Palace" is a darkly funny, twisted portrait of chaos and paranoia that keeps readers guessing until the final pages.
Praise For The Burn Palace…
"I've read some very good novels this year, but this one is the best of the best. In a real sense, I didn't read it at all, after the first five pages; I entered the small-town world Stephen Dobyns creates with such affection, horror, and fidelity. I can imagine Nathaniel Hawthorne, Sherwood Anderson, and--yes--Grace Metalious rising to their feet in that special Writing Room of the Dead and giving Dobyns a standing ovation.

"Dobyns has always been good, but this book is authentically great. The characters are vivid originals, not a stereotype among them, and the story pulled this reader in so completely that I didn't want the book to end, and actually did go back to re-read the first chapter. One of the characters, Bingo Schwartz, loves opera, and there's something operatic about this book. All the disparate plot-threads draw together in a smashing, full-volume climax. This one is the full meal, by turns terrifying, sweet, and crazily funny. By God, there's even a sex scene so hot it makes those 50 Shades books look like Little Women. I've written some 'secrets of a small New England town' books, and in The Burn Palace, it's as if Stephen Dobyns is saying--very gently--'Hey Steve…this is how you really do it.'
  "One more thing. If ever there was a novel that demonstrates why this mode of entertainment remains healthy and vital more that 150 years after Charles Dickens did his thing, The Burn Palace is that book. It is, simply put, the embodiment of why we read stories, and why the novel will always be a better bang for the entertainment buck than movies or TV. Great story, great prose. Musical prose. You can't ask for more than this book gives. I loved it." —Stephen King
"The latest from the prolific Dobyns is by turns an affectionate portrait of small town life, a terrifying supernatural thriller, and a sly horror comedy…despite the novel's complexity, Dobyns gives his many characters space to come alive and allows each of the spooky subplots time to build maximum suspense…Dobyns' tone, shifting from amused to sinister and back again, elevates the material by buttressing the horror with pitch black humor. A tour de force genre buster that could be a breakout."—Publisher's Weekly (starred review)

"An utterly believable tale, and Dobyns isn't above scaring the reader silly with surprise twists and turns… Nicely done—and you may never look at doctors the same way again."—Kirkus Reviews

 "A huge, seamless tapestry of narrative… You can't wait to turn the page to see what happens next, to what might be hiding right around the next corner, or living quietly in that sleepy house next door to yours."—Shelf Awareness
 
"With nods to Nathaniel Hawthorne and Stephen King, two other writers who know something about terrorizing small New England towns, Dobyns has created a riveting work of the imagination."—San Antonio Express-News
 
"A story that rocks along without a word wasted… Dobyns writes a straight thriller, but his mastery of language puts the reader into empty streets swirling with bits of paper and dead leaves, makes us feel at one moment hurried along and at the next expansive and thoughtful…Read slowly (if you can!) to enjoy his craftsmanship."—Charlotte Observer
 
"Veteran novelist Stephen Dobyns reveals how easily people can get worked up into hysterics about evil they can only imagine, even as they miss the evil right in front of their eyes. Buy it."—New York Magazine
 
"The Burn Palace is a big, meaty book that is by turns a police procedural, a horror novel and a dark, dark comedy. It's also a spellbinding argument for the novel as a uniquely entertaining genre. This isn't an empty-calorie slasher-flick-in-print. Dobyns has written an unhurried, old-fashioned novel, built out of well-rounded characters who find themselves in horrific, barely believable situations."—Richmond Times Dispatch
 
"A hard-hitting literary mystery-thriller…  Fear drives this novel, but cleverly placed red herrings keep readers guessing as to the mystery's outcome… Dobyns delivers an engrossing story with a satisfying spine-chilling mystery."—Winnipeg Free Press
 
"Though Stephen Dobyns's new work of fiction may move primarily as a thriller, it punches and thrusts and bangs its shoulders hard against the confines of the genre in ways as entertaining as any new work of fiction you'll read this winter. However, the best part of the book isn't the range of characters or the style...it's the unfolding of a complex plot that moves all of the characters about in such fashion as to produce that frisson of American despair and horror."—The Boston Globe

"An exquisitely unexpected, delightfully believable exploration of what normal looks like when it goes through the (evil) looking glass."—Oprah.com
Plume Books, 9780142180440, 464pp.
Publication Date: January 28, 2014
About the Author
Stephen Dobyns is the author of more than thirty novels and poetry collections. He teaches writing at Warren Wilson College and lives in New England.
or
Not Currently Available for Direct Purchase