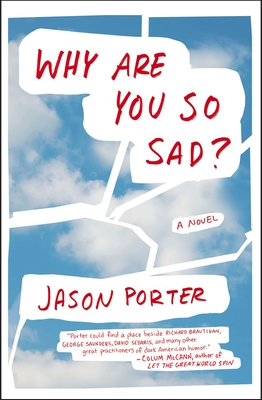 Why Are You So Sad?
Paperback

* Individual store prices may vary.
Other Editions of This Title:
MP3 CD (1/28/2014)
Compact Disc (1/28/2014)
MP3 CD (1/28/2014)
Compact Disc (1/28/2014)
MP3 CD (1/6/2015)
Compact Disc (1/6/2015)
Description
"Jason Porter could find a place on the shelf beside Richard Brautigan, George Saunders, and David Sedaris. This is a quick, odd, wonderful book, one that pinned me back on my heels and made me laugh."
Colum McCann, author of "Let the Great World Spin"
"Have we all sunken into a species-wide bout of clinical depression?"
Porter's uproarious, intelligent debut centers on Raymond Champs, an illustrator of assembly manuals for a home furnishings corporation, who is charged with a huge task: To determine whether or not the world needs saving. It comes to him in the midst of a losing battle with insomnia everybody he knows, and maybe everybody on the planet, is suffering from severe clinical depression. He's nearly certain something has gone wrong. A virus perhaps. It's in the water, or it's in the mosquitoes, or maybe in the ranch flavored snack foods. And what if we are all too sad and dispirited to do anything about it? Obsessed as he becomes, Raymond composes an anonymous survey to submit to his unsuspecting coworkers Are you who you want to be?, Do you believe in life after death?, Is today better than yesterday? because what Raymond needs is data. He needs to know if it can be proven. It's a big responsibility. People might not believe him. People, like his wife and his boss, might think he is losing his mind. But only because they are also losing their minds. Or are they?
Reminiscent of Gary Shteyngart, George Saunders, Douglas Coupland and Jennifer Egan, Porter's debut is an acutely perceptive and sharply funny meditation on what makes people tick.
Praise For Why Are You So Sad?…
"Jason Porter could find a place on the shelf beside Richard Brautigan, George Saunders, and David Sedaris. This is a quick, odd, wonderful book, one that pinned me back on my heels and made me laugh." 
—Colum McCann, author of Let the Great World Spin and TransAtlantic
 
"Like a well-stocked IKEA, Why Are You So Sad has everything you need for your home and your heart. Jason Porter has written an astute, intelligent and hilarious book."
—Gary Shteyngart, author of Super Sad True Love Story

"A terrific and moving new voice. If you haven't yet made your peace with the bleaker inevitabilities of life, Jason Porter's fearless debut will get you there, one howl of laughter at a time."
–Téa Obreht, author of The Tiger's Wife

"Why Are You So Sad: Why are you so funny, so wry, so true, so compelling? Jason Porter's lovely book is perfect and wondrous, a masterfully crafted story of modernity. I ate it whole." 
—Jennifer Traig, author of memoirs Devil in the Details: Scenes from an Obsessive Girlhood, and Well Enough Alone: A Cultural History of My Hypochondria
 
"Why Are You So Sad? is wry, sardonic, very smart, and hilariously critical of the futility and general mediocrity of Life in America as we know it." 
—Patrick McGrath, author of Asylum and Constance
 
"Existential despair has never been so funny. Why Are You So Sad is a great American comedy, perfectly tuned to this ridiculous age. Jason Porter is a Kafka with better jokes."
—Larry Doyle, author of I Love You, Beth Cooper
 
Why Are You So Sad? is a precisely calibrated comedy pitched halfway between a laugh and a sob. Beautifully written, philosophically unsound, and funny." 
—Sara Levine, author of Treasure Island!!!

"Porter starts with a loaded question and takes aim at our compromises and deferred dreams, at our unquestioned normalcy—and he hits us where we live. But this is Camus crossed with Stanley Elkin, a brilliant book that's as funny as it is wise."
—Jeffrey Rotter, author of The Unknown Knowns

"The book toggles deftly between its narrator's bummer of a worldview and his riotous, biting snark, peppered throughout with dashes of surprisingly transcendent philosophies. Porter's is a smart, compact debut that resonates on both tragic and comic levels." 
—Publishers Weekly

"Have trouble waiting for the next George Saunders book? Here's your life raft...Why Are You So Sad? reads like a work of humor, and testimony. In fact, it bravely shows how these two impulses can collide, and form a satisfying kind of solace."
—John Freeman, The Toronto Star

"Porter's humorous insight into the human condition is a highbrow/lowbrow tightrope walk between philosophical quandary and human desire. And this novel may very well get you to reflect on your own happiness, your own choices. Perhaps you may end up taking Raymond's survey, asking yourself, why am I so sad?"
—Alex Gilvarry, NPR Books

"Jason Porter's debut novel, Why Are You So Sad?, is the latest example of a literary sub-genre in which the petty foibles and mindless tedium of office life are served up for punchlines and mordant parody."
—The Washington Post
Plume Books, 9780142180587, 198pp.
Publication Date: January 28, 2014
About the Author
Jason Porter was born and raised in southeastern Michigan. He is, or has been, an English teacher, customer support representative, landlord, traveling musician, and the overnight editor for "Yahoo! News" and "The New York Times." Currently, he writes fiction. "Why Are You So Sad?" is his first novel.
or
Not Currently Available for Direct Purchase