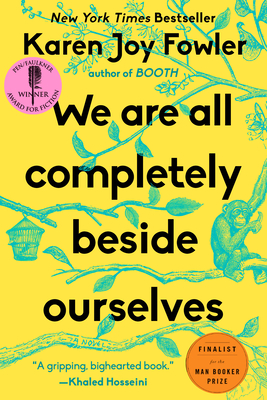 We Are All Completely Beside Ourselves
A Novel
Paperback

* Individual store prices may vary.
Other Editions of This Title:
Digital Audiobook (5/29/2013)
Digital Audiobook (7/2/2014)
Hardcover (5/30/2013)
Compact Disc (5/30/2013)
MP3 CD (5/30/2013)
June 2013 Indie Next List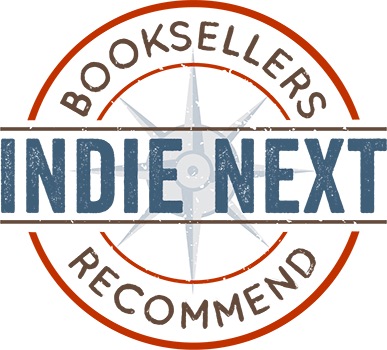 "Rosemary is not yet six when her sister, Fern, is removed to a center for research. Fern and Rosemary were inseparable, and her family falls apart after the removal: Lowell, her brother, disappears when he discovers where Fern was sent; their father becomes a distant, brooding man; and their mother is a shell of her former self. Why a research facility? Because Fern is a chimpanzee. In this extraordinary novel written by a gifted author, Fowler opens our eyes to the inhumane treatment of animals by humans and helps us to identify what it truly means to be human."
— Karen Briggs, Great Northern Books and Hobbies, Oscoda, MI
View the List
Description
The New York Times bestselling author of The Jane Austen Book Club introduces a middle-class American family that is ordinary in every way but one in this novel that won the PEN/Faulkner Award and was a finalist for the Man Booker Prize.
 
Meet the Cooke family: Mother and Dad, brother Lowell, sister Fern, and Rosemary, who begins her story in the middle. She has her reasons. "I was raised with a chimpanzee," she explains. "I tell you Fern was a chimp and already you aren't thinking of her as my sister. But until Fern's expulsion...she was my twin, my funhouse mirror, my whirlwind other half and I loved her as a sister." As a child, Rosemary never stopped talking. Then, something happened, and Rosemary wrapped herself in silence.

In We Are All Completely Beside Ourselves, Karen Joy Fowler weaves her most accomplished work to date—a tale of loving but fallible people whose well-intentioned actions lead to heartbreaking consequences.

"A gripping, big-hearted book...through the tender voice of her protagonist, Fowler has a lot to say about family, memory, language, science, and indeed the question of what constitutes a human being."—Khaled Hosseini 
Praise For We Are All Completely Beside Ourselves: A Novel…
Praise for We Are All Completely Beside Ourselves
 
"A novel so readably juicy and surreptitiously smart, it deserves all the attention it can get...[Its] fresh diction and madcap plot bend the tone toward comedy, but it never mislays its solemn raison d'être. Monkeyshines aside, this is a story of Everyfamily in which loss engraves relationships, truth is a soulful stalker and coming-of-age means facing down the mirror, recognizing the shape-shifting notion of self."—Barbara Kingsolver, The New York Times Book Review

"Fowler's interests here are in what sets humans apart from their fellow primates. Cognitive, language and memory skills all come into playful question. But the heart of the novel—and it has a big, warm, loudly beating heart throughout—is in its gradually pieced-together tale of family togetherness, disruption and reconciliation. We Are All Completely Beside Ourselves is Fowler at her best, mixing cerebral and emotional appeal together in an utterly captivating manner."—The Seattle Times

"Elegantly and humorously orchestrated...Knitting together Rosemary's at times poignant, at times hilarious scraps of uncovered memories, Fowler creates a fantastical tale of raw, animalistic love."—O, The Oprah Magazine

"[The novel] lies somewhere between psychological thriller, scientific theory and coming-of-age story, a seemingly untenable combination. But Fowler, through wit and mastery of her craft, handles the complexity effortlessly."—USA Today 

"This brave, bold, shattering novel reminds us what it means to be human, in the best and worst sense."—The Miami Herald
 
"Rosemary's voice—vulnerable, angry, shockingly honest—is so compelling and the cast of characters, including Fern, irresistible. A fantastic novel: technically and intellectually complex, while emotionally gripping."—Kirkus Reviews (starred review)
 
"Piquant humor, refulgent language, a canny plot rooted in real-life experiences, an irresistible narrator, threshing insights, and tender emotions—Fowler has outdone herself in this deeply inquisitive, cage-rattling novel."—Booklist (starred review)
 
"A strong, unsettling novel...Fowler explores the depths of human emotions and delivers a tragic love story that captures our hearts."—Library Journal (starred review)
 
"Rosemary's experience [is] a fascinating basis for insight into memory, the mind, and human development."—Publishers Weekly
 
"In this curious, wonderfully intelligent novel, Karen Joy Fowler brings to life a most unusual family. Wonderful Fern, wonderful Rosemary! Through them we feel what it means to be a human animal."—Andrea Barrett, author of Servants of the Map and Ship Fever
 
"Karen Joy Fowler has written the book she's always had in her to write. With all the quiet strangeness of her amazing Sarah Canary, and all the breezy wit and skill of her beloved Jane Austen Book Club, and a new, urgent gravity, she has told the story of an American family. An unusual family—but aren't all families unusual?  A very American, an only-in-America family—and yet an everywhere family, whose children, parents, siblings, love one another very much, and damage one another badly.  Does the love survive the damage?  Will human beings survive the damage they do to the world they love so much?  This is a strong, deep, sweet novel."—Ursula K. Le Guin, author of Lavinia, The Unreal and the Real, and the Earthsea Cycle
 
"We Are All Completely Beside Ourselves is a dark cautionary tale hanging out, incognito-style, in what at first seems a traditional family narrative. It is anything but. This novel is deliciously jaunty in tone and disturbing in material. Karen Joy Fowler tells the story of how one animal—the animal of man—can simultaneously destroy and expand our notion of what is possible."—Alice Sebold, New York Times-bestselling author of The Lovely Bones and The Almost Moon
 
"You know how people say something is incredible or unbelievable when they mean it's excellent? Well, Karen Joy Fowler's new book is excellent: utterly believable and completely credible - a funny, moving, entertaining novel that is also an important and unblinking review of a shameful chapter in the history of science."—Dr. Mary Doria Russell, biological anthropologist and author of The Sparrow and Doc

"It's been years since I've felt so passionate about a book. When I finished at 3 a.m., I wept, then I woke up the next morning, reread the ending, and cried all over again."—Ruth Ozeki, author of My Year of Meats and A Tale for the Time Being
 
"This unforgettable novel is a dark and beautiful journey into the heart of a family, an exploration of the meanings of memory, a study of what it means to be 'human.' In the end the book doesn't just break your heart; it takes your heart and won't give it back."—Dan Chaon, author of Await Your Reply and Stay Awake
 
"A funny, stingingly smart, and heartbreaking book. Among other things, it's about love, family, loss, and secrets; the acquisition and the loss of language. It's also about two sisters, Rosemary and Fern, who are unlike any other sisters you've ever met before."—Kelly Link, author of Stranger Things Happen and Pretty Monsters
G.P. Putnam's Sons, 9780142180822, 336pp.
Publication Date: February 25, 2014
About the Author
Karen Joy Fowler, a PEN/Faulkner and California Book Award winner, is the author of six novels (two of them New York Times bestsellers) and four short story collections. She has been a Dublin IMPAC nominee, and was shortlisted for the Man Booker Prize in 2014. She lives in Santa Cruz, California.