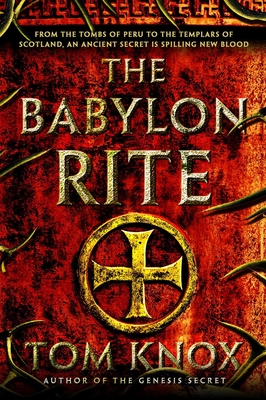 The Babylon Rite (Paperback)
Plume Books, 9780142180891, 352pp.
Publication Date: April 29, 2014
* Individual store prices may vary.
or
Not Currently Available for Direct Purchase
Description
What terrible secret has driven the world's foremost historian of the Knights Templar to kill himself?
Journalist Adam Blackwood has just been handed the story of a lifetime: something is hidden in the famous Knights Templar chapel of Rosslyn that could unlock the greatest mystery of the medieval Templars until the one man who could decipher the final clue commits a grotesque suicide. Adam sets out to learn why.
In Peru, anthropologist Jess Silverton is researching the remnants of the Moche, a bloodthirsty, sexually voracious, lost Stone Age civilization. Amid the toxic turmoil of local gangs and corrupt politicians, her dogged pursuit for answers will lead Jess to cross paths with Adam as they unearth the ancient secret that enthralled the conquistadors, horrified the Church, and is threatening to reemerge with catastrophic consequences.
About the Author
Tom Knox is the internationally bestselling author of "The Lost Goddess," "Marks of Cain," and "The Genesis Secret," and is the pseudonym for English journalist and author Sean Thomas. He currently lives in London.
Praise For The Babylon Rite…
Praise for THE BABYLON RITE:

"Knox's greatest strength is coming up with original anthropological mysteries. Knox provides a surfeit of gruesome detail, but readers with strong stomachs... will be satisfied." –Publishers Weekly
 
"Knox weaves a compelling, violent tale, peppered with plenty of sex, that will appeal to ancient conspiracy fans comfortable with the graphic content." –Booklist
 
"Historical, adventure, and suspense fans unite! Any Da Vinci Code fan will also love the fact that the Knights Templar are once again being revisited, and their reputation is darker than ever before. And although there are horror scenes galore, the research is extremely invigorating and the mystery is beyond cool." –Amy Lignor, Suspense Magazine
 
"Tom Knox returns with an electrifying new novel. A rapid fire pace, absorbing storyline and plenty of action propels this well researched if grisly tale to a chilling conclusion. The finely nuanced characters and excellent setting development coupled with ancient cultures practicing shocking rites grabs readers' attention like a vise and doesn't let go until the final page. The Moche and Templars definitely existed and Knox's version of how they were possibly connected is an interesting idea to contemplate. This is an outstanding if gory mystery that while predictable in places, delivers a fine tale." –Monstersandcritics.com Mystery Book Reviews
 

 

Praise for THE LOST GODDESS:

"Mr. Knox's speculations are good ones, making you wonder what might really have been going on in dictators' secret laboratories." — The Wall Street Journal

"How terrific to find a new thriller in which the dramatic action emerges from an exemplary mix of first-rate research, interesting politics and credible characters! A novel such as this really gives you hope for good reading at the end of a busy workday or during a trip." — The Dallas Morning News

"The Lost Goddess" is a globetrotting adventure with shades of Dan Brown and Indiana Jones....A page-turner." — Suspense Magazine

"This quirky novel from the pseudonymous Knox...combines elements of the best of several genres, shakes them up, then lays them out in surprisingly original patterns....Knox doles out enough tantalizing scientific, social, and spiritual lore to sate even the hungriest anthropological thriller reader." — Publishers Weekly

 

Praise for THE MARKS OF CAIN:

"Tom Knox knows the DNA of an astonishing thriller. The Marks of Cain...may well be the most controversial thriller since The Da Vinci Code." — Jeff Abbott, bestselling author of Panic and Fear

"An intriguing, well-told story." — Booklist
 

Praise for THE GENESIS SECRET:

"[The Genesis Secret] makes one want to tear through the pages to find out what happens next." — The Dallas Morning News

"Dan Brown's The Da Vinci Code brought on a flood of tomb-raiding thrillers. I enjoyed Tom Knox's The Genesis Secret best." — The Minnnesota Star-Tribune
 
"Sinister, macabre, relentless and rich...The ideal blend of both The Da Vinci Code and Raiders of the Lost Ark." — Bill Loehfelm, author of Fresh Kills
 
"Everything one could want in a thriller: a plot that keeps you hooked, heroes worth cheering for, and a brilliantly maintained air of menace." — Jon Fasman, author of The Geographer's Library
 
Advertisement