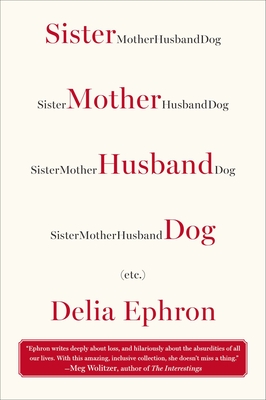 Sister Mother Husband Dog
(Etc.)
Paperback

* Individual store prices may vary.
Description
Bestselling author Delia Ephron shares a deeply personal collection of stories and essays, anchored by a loving remembrance of her sister Nora.
 
In Sister Mother Husband Dog, Delia Ephron brings her trademark wit and effervescent prose to a series of autobiographical essays about life, love, sisterhood, movies, and family. In "Losing Nora," she deftly captures the rivalry, mutual respect, and intimacy that made up her relationship with her older sister and frequent writing companion. Other essays run the gamut from a humorous piece about love and the movies—how one romantic comedy completely destroyed her twenties—to the joy of girl friends and best friendship, the magical madness and miracle of dogs, keen-eyed observations about urban survival, and a serious and affecting memoir of life with her mother and growing up the child of alcoholics. Ephron's eloquent style and voice illuminate every page of this superb and singular work.
Praise For Sister Mother Husband Dog: (Etc.)…
"I used to have an idea for an essay: it would be about how college alumni magazines are essentially the book of everything. But having read Delia Ephron's Sister Mother Husband Dog, I've changed my mind. This is the book of everything. It contains love, work, death, religion, sorrow, and baked goods, among many, many other things. I felt such a range of emotions when reading it. Ephron writes openly and deeply about powerful loss, and hilariously about the small and large absurdities of all our lives. With this amazing, inclusive collection, she doesn't miss a thing."    
—Meg Wolitzer, author of The Interestings

"Nothing is more fun or funny than Delia Ephron grappling with her marriage, with her remote control, with what the weather does to her hair, and even with the loss of the larger-than-life family of writers who shaped her. No matter your species, you will desperately want Delia for your sister, your mother, maybe even your husband (though definitely not your dog)."—Lena Dunham

"What a wonderful, wonderful book. Delia Ephron tangles fearlessly with heartbreak, ambiguity, and the day-to-day absurdities of her life, and of course, our own. I cried and I laughed and then immediately reread every essay the moment I was done. Sister Mother Husband Dog is genius, and Ephron remains our most radiant observer of the hidden places of the heart."
—Marie Brenner, author of Apples and Oranges

"I devoured Delia's deliciously wonderful memoir in one-and-a-half sittings. All praise to her for these self-honest and hilarious stories of love, life and the healing power of girlfriends, doggies and bakery items."
—Jane Lynch, actress and author of Happy Accidents

"Who wouldn't want to be a spy in the house of Ephron, where writing is the family business and essays can feel like confidences of the gossipy but upright, trustworthy kind?...[Delia Ephron] reports from the frontlines of heartbreak, but frankly and with less sugarcoating than the post-Nora reader might expect....everything is there in perfect proportion—the love, the disbelief, and the helplessness. The book builds in heft and gravity to finish gorgeously....Sister Mother Husband Dog is a valentine, sometimes frilly but more memorably about love, loss, and all that is irreplaceable."—Elinor Lipman, The New York Times Book Review

"The mix here mirrors the comforting jumble of real life, with jewels, junk, and everything else thrown in, creating a down-to-earth intimacy that is classic Ephron."—Publisher's Weekly
 
"[Ephron's] keen observations about family, friends, work and life's small indignities and deep sorrows leave readers laughing out loud one moment and tearing up the next. A witty and often profound look at human behavior and all its absurdities, contradictions, obsessions and phobias."—Kirkus Reviews
Plume, 9780142181096, 240pp.
Publication Date: August 26, 2014
About the Author
Delia Ephron is a bestselling author and screenwriter. Her movies include The Sisterhood of the Traveling Pants, You've Got Mail, Hanging Up (based on her novel), and Michael. She has written novels for adults and teenagers, including the New York Times bestselling Siracusa and The Lion Is In; books of humor, including How to Eat Like a Child; and essays. Her journalism has appeared regularly in The New York Times, O: The Oprah Magazine, Vogue, More, and The Huffington Post. Her hit play Love, Loss, and What I Wore (cowritten with Nora Ephron) ran for more than two years off-Broadway and has been performed all over the world, including in Paris, Rio, and Sydney. She lives in New York City.
or
Not Currently Available for Direct Purchase