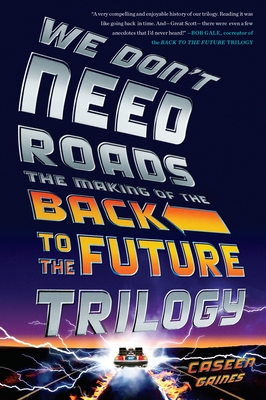 We Don't Need Roads (Paperback)
The Making of the Back to the Future Trilogy
Plume, 9780142181539, 288pp.
Publication Date: June 23, 2015
* Individual store prices may vary.
Description
A behind-the-scenes look at the making of the iconic Back to the Future trilogy
Long before Marty McFly and Doc Brown traveled through time in a flying DeLorean, director Robert Zemeckis, and his friend and writing partner Bob Gale, worked tirelessly to break into the industry with a hit. During their journey to realize their dream, they encountered unprecedented challenges and regularly took the difficult way out.
For the first time ever, the story of how these two young filmmakers struck lightning is being told by those who witnessed it. 
We Don't Need Roads
 draws from over 500 hours of interviews, including original interviews with Zemeckis, Gale, Christopher Lloyd, Lea Thompson, Huey Lewis, and over fifty others who contributed to one of the most popular and profitable film trilogies of all time. The book includes a 16-page color photo insert with behind-the-scenes pictures, concept art, and more.
With a focus not only on the movies, but also the lasting impact of the franchise and its fandom, 
We Don't Need Roads
 is the ultimate read for anyone who has ever wanted to ride a Hoverboard, hang from the top of a clock tower, travel through the space-time continuum, or find out what really happened to Eric Stoltz after the first six weeks of filming. So, why don't you make like a tree and get outta here – and start reading!
 We Don't Need Road
s is your density.  
"What fun! Deeply researched and engagingly written … the book Back to the Future fans have been craving for decades. Geekily enthusiastic and chock full of never-before-heard tales of what went on both on and off the screen, We Don't Need Roads is a book worthy of the beloved trilogy itself." – Brian Jay Jones, author of the national bestseller Jim Henson: The Biography
"A very compelling and enjoyable history of our trilogy. For me, reading it was like going back in time. And - Great Scott - there were even a few anecdotes that I'd never heard!" 
– Bob Gale, co-creator, co-producer, and co-writer of the Back to the Future trilogy
About the Author
Caseen Gaines is a popular culture historian. He is the author of Inside Pee-wee's Playhouse: The Untold, Unauthorized, and Unpredictable Story of a Pop Phenomenon, which received the 2012 Independent Publisher's Book Award - Silver Medal in the Popular Culture / Leisure category, as well as A Christmas Story: Behind the Scenes of a Holiday Classic. Caseen also directs theater and teaches high school English in New Jersey, where he lives. He aspires to be a Renaissance Man and fears being a jack of all trades.
Praise For We Don't Need Roads: The Making of the Back to the Future Trilogy…
"Caseen Gaines has written a very compelling and enjoyable history of our trilogy. For me, reading it was like going back in time. And - Great Scott - there were even a few anecdotes that I'd never heard!" - Bob Gale, co-creator, co-producer, and co-writer of the Back to the Future trilogy

"The most enlightening and informative book I've read since Grays Sports Almanac. Every true fan of the Holy Trilogy should own a copy... It's your density."
-Ernest Cline, DeLorean owner/Author of Ready Player One

"We Don't Need Roads is the truly fascinating story of how one of America's greatest movie franchises came to be. Caseen Gaines' in-depth research and unprecedented look at Robert Zemeckis' series proves that the journey to make a perfect movie is anything but perfect. It's a must read for any true Back to the Future lover and anyone who wants to peek behind the curtain to see how films get made." - Adam F. Goldberg, creator of ABC's The Goldbergs

"Read this book, then watch the movie for the umpteenth time. You'll appreciate Back to the Future all the more thanks to Caseen Gaines' muscular reporting and conversational writing style." - Michael Davis, New York Times bestselling author of Street Gang: The Complete History of Sesame Street

"What fun! Deeply researched and engagingly written, Caseen Gaines' We Don't Need Roads is the book Back to the Future fans have been craving for decades. Geekily enthusiastic and chock full of never-before-heard tales of what went on both on and off the screen, We Don't Need Roads is a book worthy of the beloved trilogy itself." - Brian Jay Jones, New York Times bestselling author of Jim Henson: The Biography

"Impressively exhaustive...[We Don't Need Roads is] an enthusiastic and thorough oral history." —NPR

"A must-read for Future fans, media studies students, aspiring filmmakers, and time-travel buffs." —Library Journal

"An incredibly revealing look at a film series that helped change Hollywood...if you love movies, you should pick this book up." —io9.com

"Even if you are a hardcore fan, this book can at times feel like a revelation; like hitting-one's-head-on-the-edge-of-a-toilet-and-suddenly-understanding-flux-capacitors revelations." —Film School Rejects

"Even the most knowledgeable Future fans will find much to learn from this intricately detailed and exhaustively researched book. But it's not just the depth of Gaines's knowledge and the scope of his interviews that impresses; he clearly adores these films and understands their importance to popular cinema, and that love and understanding shines through the text." - Jason Bailey, author of Pulp Fiction: The Complete Story of Quentin Tarantino's Masterpiece

"The 30th anniversary of the Back to the Future trilogy is the perfect time for a book celebrating and examining the greatest comedy science fiction time travel trilogy ever made. With over five hundred hours of interviews with key cast and crew members, Caseen Gaines' book is a delightful way to travel back to the future and relive those wonderful times with Marty McFly, his family, friends, and enemies – not to mention the inimitable Doc Brown. Strap into your DeLorean and get ready for the ride of your life!" - Marc Scott Zicree, author of The Twilight Zone Companion

"We Don't Need Roads is essential for any Back To the Future fan. Not only does Caseen Gaines offer up a meticulously crafted and entertaining account of one of the most beloved time-traveling franchises in movie history, but he uses his access to take an incisive look behind-the-scenes of Hollywood filmmaking. A must read for all pop culture aficionados."
Larry Landsman, author of Planet of the Apes Revisited