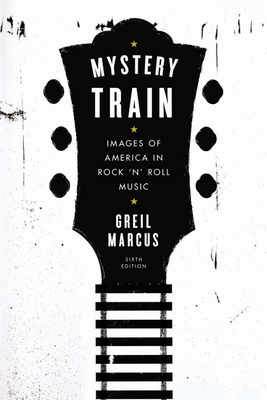 Mystery Train
Images of America in Rock 'n' Roll Music: Sixth Edition
Paperback

* Individual store prices may vary.
Other Editions of This Title:
Paperback, French (9/1/2003)
Paperback, Spanish (6/1/2014)
Paperback (3/1/2008)
Description
The perfect gift for music fans and anyone who loves artists like Elvis Presley, Randy Newman, Sly Stone, Robert Johnson, and Harmonica Frank.

In 1975, Greil Marcus's Mystery Train changed the way readers thought about rock 'n' roll and continues to be sought out today by music fans and anyone interested in pop culture. Looking at recordings by six key artists—Robert Johnson, Harmonica Frank, Randy Newman, the Band, Sly Stone, and Elvis Presley—Marcus offers a complex and unprecedented analysis of the relationship between rock 'n' roll and American culture. In this latest edition, Marcus provides an extensively updated and rewritten Note and Discographies section, exploring the recordings' evolution and continuing impact.
Praise For Mystery Train: Images of America in Rock 'n' Roll Music: Sixth Edition…
Praise for Mystery Train:
"His tinkering has kept it relevant through six editions, but his writing and ideas have rendered it ageless. I've been reading it for years; when I lent it to a friend I missed it so much I bought a second copy. Mystery Train is more than rock criticism. It explores the meaning of America through rock 'n' roll. The chapter on Robert Johnson opens with the end of The Great Gatsby. Woodrow Wilson and D. H. Lawrence turn up in the Elvis section. A moment on the Band's debut album inspires this: 'You couldn't ask for a more perfect statement of the conviction that America is blessed, or of the lingering suspicion that it is cursed.' The Marcus worldview — the notion that pop culture matters as much as history and literature — is perfectly distilled in the prologue, where he connects the immortal sweep of art to Little Richard."—Manny Fernandez, Houston bureau chief

"Mystery Train changed a lot of things for me. Most basically, it plugged me into a lifetime's worth of listening. Because of it, I erased 'English lit' as my college major and inked in 'American lit.' It remains the book I can't help measuring critical writing against...I plan to give a copy of Mr. Marcus's book to each of my children when they leave for college. It speaks intimately to a part of the cultural heritage that, in my haphazard way, I've tried to give them."–Dwight Garner, The New York Times

"Gets as close to the heart and soul of America and American music as the best of rock 'n' roll." –Bruce Springsteen
 
"Perhaps the finest book ever written about pop music." –Alan Light, The New York Times Book Review, 2005
 
"Greil Marcus developed an ability to discern an art movement, or an entire country, lurking inside a song." –The New Yorker, 2004
 
"Probably the most astute critic of American popular culture since Edmund Wilson." –D.D. Guttenplan, London Review of Books, 2007
 
"The 1975 appearance of Greil Marcus' first book, Mystery Train, was an explosion as unexpected and indelible as the first records Elvis Presley had cut almost exactly twenty years before." –Mark Rozzo, Los Angeles Times' Book Review, 2006
Plume, 9780142181584, 448pp.
Publication Date: April 28, 2015
About the Author
Greil Marcus was the first Records editor at Rolling Stone. His many books include Mystery Train: Images of America in Rock 'n' Roll Music (1975), Lipstick Traces: A Secret History of the Twentieth Century (1989) and The History of Rock 'n' Roll in Ten Songs (2014). He lives in Oakland and teaches at Berkeley.