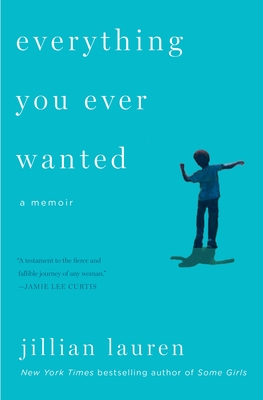 Everything You Ever Wanted (Paperback)
A Memoir
Plume, 9780142181638, 272pp.
Publication Date: May 5, 2015
Other Editions of This Title:
Digital Audiobook (5/18/2015)
MP3 CD (5/19/2015)
Compact Disc (5/19/2015)
Prebound (5/5/2015)
* Individual store prices may vary.
Description
A Best Memoir of 2015, "This memoir is compulsively readable and full of humor and heart."—AdoptiveFamilies.com 


"A punk rock Scheherazade" (Margaret Cho) shares the zigzagging path that took her from harem member to PTA member…

In her younger years, Jillian Lauren was a college dropout, a drug addict, and an international concubine in the Prince of Brunei's harem, an experience she immortalized in in her bestselling memoir, SOME GIRLS. In her thirties, Jillian's most radical act was learning the steadying power of love when she and her rock star husband adopt an Ethiopian child with special needs.  After Jillian loses a close friend to drugs, she herself is saved by her fierce, bold love for her son as she fights to make him—and herself—feel safe and at home in the world.

Exploring complex ideas of identity and reinvention, Everything You Ever Wanted is a must-read for everyone, especially every mother, who has ever hoped for a second act in life.
About the Author
Jillian Lauren lives in Los Angeles with her husband, Weezer bass player, Scott Shriner, and their son, Tariku.
Praise For Everything You Ever Wanted: A Memoir…
"Everything You Ever Wanted is wonderful...broad reaching and introspective."—New York Times

"While she skewers the celebrity-driven and consumerist Southern California culture she indulges in, Lauren also writes darkly and beautifully...Lauren cracked me — cracked me up and cracked me open... Part of the many joys and sorrows of reading "Everything I Ever Wanted" is this generous and funny and intelligent writer knows that, despite the many hardships, it is in fact she who is the lucky one."—LA Times

"In her beautiful, heart-wrenching, brilliant, and profoundly human second memoir, we meet Lauren a decade later in a strikingly different milieu. She's stepping over lines in stages again, but now moving toward things she's always dreamed of: becoming a good wife, a good mother, a tattooed, pierced, upstanding member of the PTA."—Boston Globe

"If there is a message in this wry and honest parenting memoir, it's to toss unrealistic hopes, to stop parenting with such intention, or, as Lauren puts it: "Sometimes, you have to be content."—Washington Post

"A transformative, unflinching account of the creation of an adoptive family. Jillian and Scott and their son Tariku show us, painful, frustrating and joyful step by step how to attach, heal, listen, trust and then let go. A testament to the fierce and fallible journey of any mother. Reads like a novel, moves you like any great story of survival would, tears of joy and triumph."—Jamie Lee Curtis
 
"An irreverent, deeply honest love letter from a fascinating mother to an exceptional, inspiring child."—Ayelet Waldman, New York Times bestselling author of Bad Mother

"As a foster child, I related so deeply to this story. Jillian Lauren is giving her son the greatest gift any child can have: to be wanted and loved unconditionally. This is a book about belonging. It's a book about parenting as a spiritual practice -- of learning how to love another human being right where they are, right where you are. A really beautiful story of family."—Tracy McMillan, bestselling author of Why You're Not Married...Yet

"Ferociously brave, funny, and heartwarming. No other parenting book has ever made me feel so validated about the big, messy, beautiful picture of what it means to care for another human being."—Claire Bidwell Smith, author of The Rules of Inheritance
 
"[This] will take your breath away. Jillian Lauren deftly unfurls a story of becoming an adoptive mother and coming terms with her own childhood." —Annabelle Gurwitch, author of I See You Made an Effort
 
"Lauren's writing is brave and honest, and she calls out hypocrisy wherever she sees it."—Kirkus
 
"Jillian Lauren proves she is a master storyteller."—Catherine Burns, Artistic Director, The Moth
 
"Candid, hilarious, searing, and poetic, Jillian Lauren is Everything You Ever Wanted in a memoirist."—Sandra Tsing Loh, author of The Madwoman in the Volvo
 
"[This is] a love story - between Jillian and her rock star husband and also between a couple and their new son. Like all great love stories, the beauty is in the struggle."—Kristen Howerton, founder of Rage Against the Minivan

Praise for Some Girls:
"SOME GIRLS would have been riveting even if Lauren had merely illuminated the murky world of high-class prostitution.  The fact that she does so with humor, candor, and a reporter's gimlet eye is an added delight.  But Lauren also reveals how and why a middle-class kid found herself in such a line of work--and how she got out."—Jennifer Egan, author of Look at Me and The Keep
 
"A heart-stoppingly thrilling story told by a punk rock Scheherazade, Lauren writes with such lyrical ease - the book is almost musical, an enduring melody of what it is to be a woman."—Margaret Cho
 
"SOME GIRLS takes you into a world so dramatic, it seems almost too outrageous to be true. Lauren lifts the veil on harem life and shows us the gritty truth of life in fantasy-land."—Lily Burana, author of Strip City
 
"Catfights, mad cash, priceless jewels -- welcome to the sultan's harem. What starts out juicy quickly turns soulful in this elegantly crafted, multi-layered stunner of a memoir. A spell-binding tale of one woman's exotic search for identity and true love."-- Rachel Resnick, author of Love Junkie
 
"Lauren tells the story straight, without much moralizing, but the corruption of the aristocrats, the powerlessness of the women and the destitution of the life outside the harem speaks for itself."—LA Times
 
"[Lauren] is a deft storyteller and not afraid to provide candid descriptions of her life. A tight, sleek narrative. What's astounding is that Lauren writes without shame, confronting every hard truth. [Some Girls is] too good to read just once."—Miami Herald

"Lauren's story is not one of perpetual gullibility and woman done wrong incidents, but rather an entertaining…and hopeful tale about one young woman's endless quest to find herself. A beautiful, sweeping epic."—Bookslut
 
"Lauren is a gifted writer. Compelling."—Library Journal

"Lauren is a natural storyteller. She has a gift for metaphor, an eye for the odd detail."—LA Weekly
 
"Lauren lifts the veil off her secret harem life, sharing vivid and explosive details."—The New York Post
 
Praise for PRETTY:
"Jillian Lauren writes with stunning, furious authenticity about self-destruction and the bitter road toward redemption. "Pretty" will knock the breath right out of you."—Janelle Brown, author of All We Ever Wanted Was Everything
 
"PRETTY is the real deal, a harrowing journey from darkness to light  to real life. Bebe's unflinching, street-level search for salvation absolutely floored me, and Jillian Lauren's writing shimmers throughout with wit and authenticity."—Antoine Wilson, author of The Interloper
 
"Pretty is the not-so-pretty, utterly riveting, non-stop frantic and compulsively readable saga of Bebe Baker, a heroine who knows her way around a serious binge. Jillian Lauren renders the taste and feel of wretched excess - be it sex, drugs, food, or Los Angeles - with a savage veracity and style all her own.  The prose, at times, drives with such ferocious urgency that the words seem not so much written as willed  onto the page. Pretty stands out as a triumph of survival testimony. The author, plainly, is lucky to have survived - but the reader is luckier.  Jillian Lauren is the real deal."—Jerry Stahl, author of Permanent Midnight
 
"BeBe Baker knows the ugliness of the world, yet finds plain truths in the multicultural pageantry of eastern Los Angeles. She is the kid you want to protect, the girl you'd definitely be friends with, the obliviously fetching female that all the boys love—an unlikely, unforgettable hero with a forever-searching soul. Pretty's true beauty, however, is the author's ability to lovingly capture life's microscopic details—right down to the cuticles—and offer them back up to us as communion."—Shawna Kenney, author of I Was a Teenage Dominatrix and Imposters