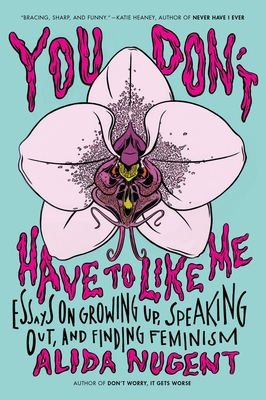 You Don't Have to Like Me
Essays on Growing Up, Speaking Out, and Finding Feminism
Paperback

* Individual store prices may vary.
Description
"Hilarious...[Nugent] documents her journey to feminism while skewering misogynist tropes and delivering some painful truths."—Publishers Weekly (starred review)
 
"Feminist" is not a four-letter word, but Alida Nugent resisted it for a long time. She feared the "scarlet F" being thrust upon her for refusing to laugh at misogynistic jokes at parties; she withered under the judgmental gaze of store clerks when buying Plan B, and she swore that she was "not like other girls." But eventually, like so many of us, she discovered that feminism is an empowering identity to take on. It's okay to criticize beauty standards but still love dark lipstick, investing in female friendships is the most rewarding thing ever, and no woman should feel pressured to eat an "unseasoned chicken breast the size of a deck of playing cards" as every sad dinner for the rest of eternity.
 
With sincerity, intelligence, and wit, Nugent invites readers in to her most private moments of personal growth. From struggling with an eating disorder for most of her teen years to embracing all aspects of her biracial identity, she tackles tough topics with honest vulnerability making it a perfect gift for teens and young adults. Smartly-written, unapologetic, and laugh-out-loud funny, You Don't Have to Like Me is perfect for readers of Roxane Gay, Rebecca Solnit, and Sloane Crosley.
Praise For You Don't Have to Like Me: Essays on Growing Up, Speaking Out, and Finding Feminism…
"Alida Nugent writes with warmth and wit." 
–Mara Wilson, author of Where Am I Now?

"Superb…Nugent adds her unique and captivating voice to the feminist canon."
–Bustle 

"Bracing, sharp, and funny."
–Katie Heaney, author of Never Have I Ever

"Hilarious...In this series of entertaining essays, popular blogger and author Nugent (Don't Worry, It Gets Worse) documents her journey to feminism while skewering misogynist tropes and delivering some painful truths...readers of all ages will be charmed."
–Publishers Weekly (starred review)

"Hilarious...[Nugent] will keep you laughing long after the book is over." 
–Glamour.com, The Biggest Books of Fall 2015

"Laugh out loud funny...Buy it for the badass, Georgia O'Keeffe inspired cover, keep it for the keen insights."
–The Huffington Post

"Hilarious, fresh, and down-to-earth."
–Cosmo.com

"Insightful…Nugent's sincerity, reliability, and nuance—rare qualities in personal essay collections—make it a worthwhile read."
–BUST

"Wonderfully empowering and delightfully entertaining."
–Shelf Awareness

"Witty, entertaining, and frequently painfully relatable…a must-read."
–Library Journal


Praise for DON'T WORRY, IT GETS WORSE

"Reading DON'T WORRY, IT GETS WORSE is the equivalent of spending an evening out with your funniest friend. Nugent keeps you laughing from start to finish—even her asides are gems."

–Rachel Dratch, Saturday Night Live cast member (1996-2007) and author of Girl Walks into a Bar

"Charming…Nugent is a confection of fabulosity, a sharp and hilarious mind that falls a little bit in love–and a little bit in hate–with the ridiculous world around her. Her observations on post-collegiate life are somehow both cutting and warm, and all the more wonderful for it. "
–Sara Barron, author of People Are Unappealing: Even Me

"A bracing whiskey shot of a book. Equal parts hilarious and tender, DON'T WORRY, IT GETS WORSE will have you laughing out loud on one page, and tearing up ever so slightly on the next. Alida Nugent is wise beyond her years."
 –Meghan Laslocky, author of The Little Book of Heartbreak

"Touching and relatable."
–BUST Magazine

"It will make you annoy your lounge chair neighbor with all your LOL-ing."
–Cosmopolitan, "Books to Pack in Your Beach Bag"

"Nugent's voice comes across as loyal and tough, and her sense of humor and authenticity will appeal to readers going through related chapters in their own post-college lives. This book, like one of its myriad cocktails, is dry, dirty and surprisingly refreshing."
–Kirkus

"If Liz Lemon's younger sister existed, she'd be just like Alida Nugent: a little bit awkward, perpetually single, and defiantly weird."
–Book Riot

"[Nugent's] essays are warm, funny slices of postcollegiate life, including amusing and helpful bits of advice from a very real person."
–Time Out New York

"Honest, real, and hilarious."
–Shelf Awareness

"Humorous… [with] wickedly crafted insights."
–New York Journal Books

"Painfully hilarious, eye-opening and breathtakingly well-written. Nugent is a force to be reckoned with...we'll be hearing from her for years to come."
–DishMag

"Depressingly realistic and hilariously offbeat....Nugent is not afraid to tell the truth, no matter how ugly it gets."
–Brooklyn Daily Eagle
Plume, 9780142181683, 240pp.
Publication Date: October 20, 2015
About the Author
Alida Nugent currently resides in Brooklyn, where she wears dark lipstick, eats sandwiches, and tries to find dive bars that serve martinis. She is also the author of Don't Worry, It Gets Worse.
or
Not Currently Available for Direct Purchase