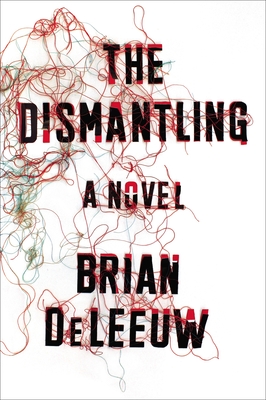 The Dismantling (Paperback)
A Novel
Plume, 9780142181744, 288pp.
Publication Date: April 28, 2015
* Individual store prices may vary.
Description
How much of yourself are you willing to sell?

At twenty-five, Simon Worth is a med school dropout, facing the grim reality of failure and massive student loans. Left with few options, he becomes an organ broker for a black-market organization, matching cash-strapped donors with recipients whose time on the transplant list is running out.
Tasked with finding a donor for Lenny Pellegrini, a severely depressed ex-NFL player who's been drinking himself to death, Simon's luck appears to change when he's contacted by Maria Campos, a young woman desperate for cash whose liver happens to be the perfect match.

The transplant goes according to plan . . . until soon afterward, when Maria disappears and Lenny makes a cruel and destructive decision. As Simon's world becomes increasingly dangerous, he learns of an unspeakable secret from Maria's past and must decide, against his better moral judgment, that the only way he'll survive is to trust her.

Chilling and fast-paced, The Dismantling questions the meaning of atonement and asks how you can reconcile the person you once were—and the person you want to be—with the person you are today.
About the Author
Brian DeLeeuw is a novelist and screenwriter living in Los Angeles. He is the author of the novels The Dismantling and In This Way I Was Saved, which was long-listed for the Dylan Thomas Prize, as well as the independent horror film Some Kind of Hate. He is a graduate of Princeton University and received his MFA in Fiction from The New School.
Praise For The Dismantling: A Novel…
"A smart novel…moves at a brisk pace, and DeLeeuw provides back stories for his characters that make them complex and convincing."—Kirkus Reviews
"Powerful." —Publishers Weekly

"With its high tension plot and atmosphere of unease, The Dismantling is a morally ambiguous thriller in the grand tradition of Graham Greene and Patricia Highsmith. It has smart things to say about memory, redemption, and what it's like to live in a world where everything is for sale, but it says them by telling a gripping story." —Christopher Beha, author of Arts & Entertainments

"Intense, spare, and unflinching, DeLeeuw's The Dismantling treads risky, ethically nuanced territory, exploring the nature of absolution and revenge, the lies we tell our families, and the honesty we can find with strangers. A psychologically insightful, gripping novel." —Michaela Carter, author of Further Out Than You Thought

"While this is a fast-paced, engaging thriller, it is also much, much more. It is, at its heart, a fully and tenderly rendered exploration of loss and shame and the deep yearning for some manner of redemption. It is about the difficult choices put before us—and that might very well damn us—when possible redemption is close at hand." —Thomas O'Malley, author of This Magnificent Desolation

"A whip-smart modern noir. Brian DeLeeuw's writing is as keenly intelligent as it is eerily propulsive." —Jennifer duBois, author of Cartwheel

 
Praise for Brian DeLeeuw's In this Way I Was Saved:
"Elegant, unsettling and wildly original, In This Way I Was Saved reads like a coming-of-age-story with the heart of a nasty thriller." —Gillian Flynn, #1 New York Times–bestselling author of Gone Girl
"Terrifying and terrifyingly good." —Vanity Fair
"Haunting and persuasive." —Los Angeles Times
"Spellbinding." —Publishers Weekly
"Original, subversive, funny, twisted, and totally engrossing, In This Way I Was Saved is a mind-bending tour de force. I read the last page, flipped back to the beginning, and immediately started again." —Chelsea Cain, New York Times–bestselling author of Heartsick and Sweetheart
"In This Way I Was Saved gave me chills, not only for its dead-on depiction of the searing loneliness of a hermetically sealed mind, but because it is so thrillingly well-executed. A superb first novel" —Kate Christensen, PEN/Faulkner award-winning author of The Great Man and Blue Plate Special
"[W]ill keep you guessing right until the book reaches its inevitable conclusion. I haven't been this entertained by a debut novel in years." —Dale Peck, author of Drift House
"In this Way I Was Saved is a frightening, gripping tale about a sadistic secret sharer, a shadow self who is ready to devour its host. This is one of the most fascinating and controlled first novels I've ever read—a sustained performance that hypnotizes and terrifies the reader." —Edmund White, author of A Boy's Own Story
"In this original, inventive debut, Brian DeLeeuw delivers a suspenseful and surprisingly tender psychological thriller that gives shape to the torment of isolation." —Helen Schulman, author of This Beautiful Life
"A story of friendship and betrayal, violence, madness, lust, and power that will keep you guessing until the very last page—and leave you gasping for air." —BookPage
"Riveting ... suspenseful and terrifying." —Library Journal
"Mysterious, psychologically, craggy, and highly readable." —Time Out New York
"Creepily compelling." —Daily Mail (UK)
"DeLeeuw's precise, vivid prose has that visceral power of both a successful psychological thriller and a gripping ghost story." —The Daily Telegraph (UK)
or
Not Currently Available for Direct Purchase