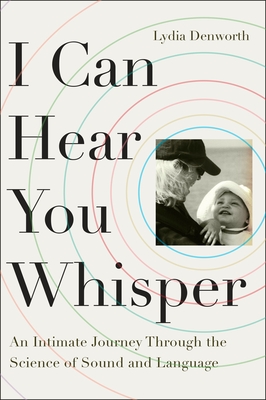 I Can Hear You Whisper
An Intimate Journey Through the Science of Sound and Language
Paperback

* Individual store prices may vary.
Other Editions of This Title:
Digital Audiobook (4/30/2014)
MP3 CD (5/1/2014)
Compact Disc (5/1/2014)
Compact Disc (5/1/2014)
Hardcover (4/17/2014)
Description
"A skilled science translator, Denworth makes decibels, teslas and brain plasticity understandable to all."—Washington Post
 
Lydia Denworth's third son, Alex, was nearly two when he was identified with significant hearing loss that was likely to get worse. Denworth knew the importance of enrichment to the developing brain but had never contemplated the opposite: deprivation. How would a child's brain grow outside the world of sound? How would he communicate? Would he learn to read and write?

An acclaimed science journalist as well as a mother, Denworth made it her mission to find out, interviewing experts on language development, inventors of groundbreaking technology, Deaf leaders, and neuroscientists at the frontiers of brain plasticity research. I Can Hear You Whisper chronicles Denworth's search for answers—and her new understanding of Deaf culture and the exquisite relationship between sound, language, and learning.
Praise For I Can Hear You Whisper: An Intimate Journey Through the Science of Sound and Language…
"In this moving and informative book, former Newsweek reporter Denworth recounts her emotional and intellectual quest to help her deaf infant son hear. [...] This is a book that parents, particularly of deaf children, may find indispensable."—Publishers Weekly

"All parents will recognize the moments of both terror and pride that mark the journey; parents of deaf children will garner both information and insights."—Kirkus Reviews

"Eloquently explains how hearing works...An excellent book for anyone with deafness in the family or with a desire to better understand how people hear, why hearing loss occurs, and how it is treated."—Booklist

"A beautiful book that combines superb scientific reporting with powerful and deeply enjoyable storytelling. Her quest to acquire every shred of knowledge she can to help her deaf son is an odyssey that all parents who worry about their children (i.e. all parents) can intimately relate to. Her discoveries about the workings of language and the intricacies of brain development will change the way you think about hearing, speaking, and selfhood. And her fascinating exploration of the politics of deaf identity is sure to spark a larger conversation about how we talk about, think about, and treat children with special needs in our time."—Judith Warner, author of Perfect Madness: Motherhood in the Age of Anxiety

"Read this if you have ears or ever interact with humans. What a moving and brilliant tour of the scientific, emotional and political landscape of hearing impairment. As a reader, I'm grateful to Lydia Denworth. As a writer, I'm jealous."—David Shenk, author of The Genius in All of Us and The Forgetting

"A lucid, engaging, and thoughtful description of the science of hearing. If you are interested in hearing, speech, and language —as a parent, educator, clinician, or scientist—this book fills an important gap and is a terrific read. Careful about the science and sensitive to the psychological complexities, Denworth provides a masterful account of the path from ear to the brain, from sounds to words."—David Poeppel, Professor of Psychology and Neural Science, New York University

"Lydia Denworth's beautiful personal account and thorough investigation connect the dots between her son's hearing loss, the essential import of spoken language on the developing brain, and what parents, doctors, and teachers can gain from a deeper understanding of how the mind acquires language."—Dana Suskind, MD, Professor of Surgery at the University of Chicago and Director of The Thirty Million Words Initiative

"An affecting and searching personal story and a fascinating job of science reporting, specifically the science of audiology—how we hear, why some of us don't, and how an amazing, but controversial, technology was invented. Lydia Denworth's son Alex, the beautiful boy at the center of the personal story, is lucky to have a mother like her. The rest of us are lucky to have such a perceptive, lucid, and touching book."—Richard Bernstein, author of A Girl Named Faithful Plum
Plume, 9780142181867, 400pp.
Publication Date: February 24, 2015
About the Author
LYDIA DENWORTH is a former Newsweek reporter, London bureau chief at People, and professor of journalism at Fordham. Her work has appeared in The New York Times, Child, Redbook, Good Housekeeping, and other publications. She lives with her family in Brooklyn, New York.
or
Not Currently Available for Direct Purchase