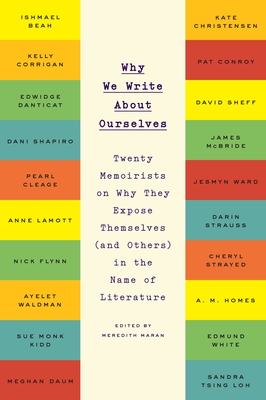 Why We Write About Ourselves
Twenty Memoirists on Why They Expose Themselves (and Others) in the Name of Literature
Paperback

* Individual store prices may vary.
Description
In the voices of twenty landmark memoirists—including New York Times bestselling authors Cheryl Strayed, Sue Monk Kidd, and Pat Conroy—a definitive text on the craft of autobiographical writing, indispensable for amateur and professional writers alike.

For readers of Mary Karr's The Art of Memoir and Judith Barrington's Writing the Memoir, this follow-up to editor Meredith Maran's acclaimed writers' handbook, Why We Write, offers inspiration, encouragement, and pithy, practical advice for bloggers, journal-keepers, aspiring essayists, and memoirists.
 
Curated and edited by Maran, herself an acclaimed author and book critic, these memoirists share the lessons they've learned through years of honing their craft. They reveal what drives them to tell their personal stories and examine the nuts and bolts of how they do it. Speaking frankly about issues ranging from turning oneself into an authentic, compelling character to exposing hard truths, these outstanding authors disclose what keeps them going, what gets in their way, and what they love most—and least—about writing about themselves.
 
"It's possible that Why We Write About Ourselves is the first compilation of memoirists at the top of their game seriously and thoughtfully considering the genre."
– LA Times


Praise For Why We Write About Ourselves: Twenty Memoirists on Why They Expose Themselves (and Others) in the Name of Literature…
"Memoirists tell the truth and expose their beating black hearts in Why We Write About Ourselves." — Vanity Fair
 
"A terrific compendium of insight into the practical craft and philosophical dimensions of how and why the magnetism of memoir works over us and works us over, featuring contributions from masters of the genre…[pair it with] Maran's previous anthology, the marvelous Why We Write — a compendium of twenty celebrated writers' reflections on why they do what they do and an excellent addition to this evolving archive of timeless advice on the craft." — BrainPickings

"This is a book designed to be dipped into. Because there is so much wisdom in these pages. So much is distilled. The very act of creating a memoir requires so much writing, sifting, considering, and more analysis…Bravissima." — East Hampton Star

"Memoirists have long faced the same set of questions: How much truth should you tell? How many secrets can be exposed? What if the truth is not as you remember it? They're all valid questions without easy answers, because it all depends on who you ask—and Maran (Why We Write) asked some heavy hitters." – Library Journal

"Reading memoirs, I have often wondered what leads someone to write something so intensely personal about not only themselves but those around them. I have often wondered what impact a public memoir has on an author's personal life and relationships...These essays, to varying degrees, answer these questions." – Memories from Books

"The book features twenty well-known authors candidly disclosing the origins of their memoirs. In response to Editor Maran's probing questions, a chorus of diverse voices and varied motivations emerge from writers including Cheryl Strayed, Anne Lamott, Nick Flynn and James McBride." – AuthorLink

"I'm not exactly sure what I was expecting from this book, but, wow, it blew me away. In Why We Write about Ourselves, twenty popular authors share their experiences of writing their own memoirs. They speak about revealing themselves, of being painfully honest, of protecting (or not) the ones they love (or don't)… After reading this book, oh man, my to-be-read list just grew, like, exponentially." – Bug Bug Book Reviews

"Read this book if you have any designs on writing a memoir.  It's a quick read (less than a week), it's entertaining, and it should help put you in the right frame of mind to accomplish your task." – Flying Houses

"You shouldn't have affairs. But definitely don't have one with a memoirist. That's one of the few real conclusions I can draw from "Why We Write About Ourselves," a collection of reflections and justifications from 20 practitioners of the memoir art. You know they're going to tell everyone about it.  It's what they do. It's all they do…Aren't those deepest intimacies precisely what we're after when we pick up a memoir?" – Washington Post
Plume, 9780142181973, 272pp.
Publication Date: January 26, 2016
About the Author
Meredith Maran, a passionate reader and writer of memoirs, is the author of thirteen nonfiction books and the acclaimed novel A Theory Of Small Earthquakes. Meredith also writes book reviews, essays, and features for newspapers and magazines including People, The Los Angeles Times, The Boston Globe, The Chicago Tribune, Salon.com, and More. A member of the National Book Critics Circle, Meredith lives in a restored historic bungalow in Los Angeles, and on Twitter at @meredithmaran. Her next memoir is about starting over in Los Angeles.