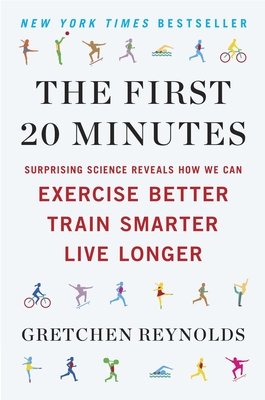 The First 20 Minutes (Paperback)
Surprising Science Reveals How We Can Exercise Better, Train Smarter, Live Longe r
Avery, 9780142196755, 288pp.
Publication Date: April 30, 2013
Other Editions of This Title:
Digital Audiobook (5/21/2012)
Hardcover (4/26/2012)
Compact Disc (5/1/2013)
Compact Disc (5/22/2012)
* Individual store prices may vary.
Description
The
New York Times
bestseller that explains how groundbreaking scientific discoveries can help each of us achieve our personal best
Every week, Gretchen Reynolds single-handedly influences how millions of Americans work out. In her popular New York Times column, she debunks myths, spurs conversation, and stirs controversy by questioning widely held beliefs about exercise.
Here, Reynolds consults experts in a range of fields to share paradigm-shifting findings that were previously only available in academic and medical journals, including: 
·        20 minutes of cardio is all you need (and sometimes six minutes is enough)
·        Stretching before a workout is counterproductive
·        Chocolate milk is better than Gatorade for recovery
Whether you're running ultramarathons or just want to climb the stairs without losing your breath, The First 20 Minutes will show you how to be healthy today and perform better tomorrow.
About the Author
For more than a decade, GRETCHEN REYNOLDS has written about the science of health and fitness for the New York Times. She lives in Santa Fe, New Mexico, with her husband and son.
Praise For The First 20 Minutes: Surprising Science Reveals How We Can Exercise Better, Train Smarter, Live Longe r…
"[This book] delivers answers to many perennial training questions [and] does a great job of myth-busting some well-established beliefs. It's a great guide for the mindful athlete who wants to gain all the benefits of physical training while minimizing downtime from injury or overtraining."—Danny Dreyer, founder of Chi Running

"There has never been a better time in history to grow stronger, faster and smarter; there has never been a more helpful book than Gretchen Reynolds's The First 20 Minutes. Smart, clear, and beautifully  useful, this is the new fitness bible for the modern age."—Dan Coyle, author of The Talent Code

"The First 20 Minutes is packed with interesting tips and insights. Pickle juice for cramps, who would have ever thought! Gretchen Reynolds once again delivers a winner."—Dean Karnazes, New York Times bestselling author of UltraMarathon Man

"An informative and entertaining review of current science about exercise and fitness, with good, commonsense recommendations that cut through confusing, often conflicting research on the subject... Armed with the information in this book, readers will be inspired and motivated to reassess their habitual exercise programs and make positive changes."—Publishers Weekly