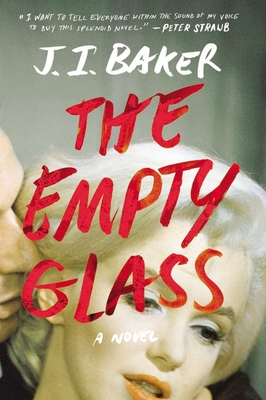 The Empty Glass
A Novel
Paperback

* Individual store prices may vary.
Other Editions of This Title:
MP3 CD (9/17/2012)
Hardcover (7/19/2012)
Compact Disc (9/17/2012)
Description
"J. I. Baker takes a bold run into Cain and DeLillo territory and scores." —Barry Gifford, author of Wild at Heart

In the early-morning hours of August 5, 1962, Los Angeles County deputy coroner Ben Fitzgerald arrives at the home of the world's most famous movie star, now lying dead in her bedroom. There he discovers The Book of Secrets—Marilyn Monroe's diary—revealing a doomed love affair with a man she refers to only as "The General." In the following days, Ben unravels a cover-up that implicates the Kennedys, the Mafia, and the CIA. Soon the sinister and surreal accounts recorded in The Book bleed into Ben's own life, and he finds himself trapped—like Monroe—in a deepening paranoid conspiracy. A knockout combination of fact and legend, The Empty Glass is a riveting debut thriller.
Praise For The Empty Glass: A Novel…
"The Empty Glass comes rampaging out of the gate and keeps on roaring and roistering until the sad, salutary shock of its final pages. After I started, the vivid writing and the presence of the unhappy latter-day Marilyn Monroe kept me reading all the way to the end. I want to tell everyone within the sound of my voice to buy this splendid novel. It's really punchy and really good, and you really should read it."—Peter Straub, award-winning author of In The Night Room

"J.I. Baker takes a bold run into Cain and DeLillo territory and scores. The Empty Glass is chilled and redolent of a good gin martini, leaving you primed to order another."—Barry Gifford, author of Wild at Heart

"Stylishly written and perfectly paced, The Empty Glass is noir fiction re-imagined for the modern era, a novel that is sharp, smart and breathlessly fast-paced, yet somehow manages to convey the slow burn of an old regret. As such, it marks the auspicious debut of a new voice in American suspense."—Thomas H. Cook, Edgar Award-winning author of Taken

"Baker conjures a suitably paranoid atmosphere and crackling dialogue in this look at the seedy intersection of celebrity, politics, and power."—Booklist

"Riveting, brilliant, and endlessly fascinating. Writing from a wholly original perspective, J.I. Baker has combined the history and myth surrounding one of the most intriguing deaths of last century and created a shocking, unputdownable thriller."—Jason Starr, author of The Craving

"A gripping and pulse-pounding conspiracy. Smart, perfectly atmospheric, and ultimately heartbreaking, The Empty Glass is one not to miss. It will stay with you long after the final page."—Andrew Gross, author of 15 Seconds and co-author of six #1 New York Times bestsellers with James Patterson

"[An] imaginative 1960s yarn."—US Weekly

"Marilyn Monroe is dead...by suicide. So why does all the evidence suggest that she was murdered? Los Angeles County deputy coroner Ben Fitzgerald's relentless search for answers leads him down a dangerous path away from his sanity—and [he] takes readers along with him....a totally credible imagining of [Monroe's] uncensored speech: breathy, sparingly punctuated and a little bit lost.... but Baker is totally in control, and watching him lead his hero along a precarious tightrope of reason is scary—and totally exhilarating."—Nathalie Gorman, Oprah.com

"It's LA CONFIDENTIAL meets the Bio channel with a little TMZ thrown in for fun."—ELLE

"Baker imagines Marilyn Monroe's death through the eyes of the coroner. Mixing fact and theory, this taut thriller explores conspiracies around her as well as the official's own psychological turmoil."—InStyle

"James Ellroy fans will relish Baker's impressive first novel, a dark paranoid thriller … barbed prose makes a familiar story fresh. Fluent in the noir idiom, Baker maintains the depressing atmospherics throughout."—Publishers Weekly, STARRED review
Plume, 9780142196786, 336pp.
Publication Date: April 30, 2013
About the Author
J.I. Baker began his journalism career covering New York City clubs for Time Out New York, the weekly magazine he helped launch. There, he interviewed the likes of David Lynch, David Cronenberg, Clive Barker, Jason Starr, Peter Straub, Gwyneth Paltrow, and Ethan Hawke. He then went to US magazine, where he edited Chuck Palahniuk, among others, before becoming deputy editor at Glamour. He spent four years at Real Simple and then became development editor at Time Inc. After two years as executive editor at Condé Nast Traveler, he is now a contributing editor.
or
Not Currently Available for Direct Purchase