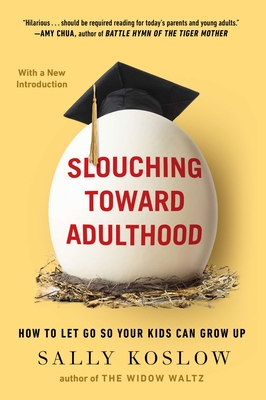 Slouching Toward Adulthood: How to Let Go So Your Kids Can Grow Up (Paperback)
How to Let Go So Your Kids Can Grow Up
Plume Books, 9780142196823, 258pp.
Publication Date: May 28, 2013
* Individual store prices may vary.
or
Not Currently Available for Direct Purchase
Description
The helicopter parent has crashed and burned. . . . Sally Koslow has] documented a generation so cosseted that they have lost the impetus to grow up or leave home. The over-involved parent has gone from paragon of caring to a figure of fun. Lisa Endlich Heffernan, The Atlantic
Parents once dreamed of dropping their prodigies at first-choice colleges and sighing with relief at a job well done. Nowadays, though, mothers and fathers are stressing about whether Jessica or Josh will boomerang back after graduation and still be there years later. Why are so many wunderkinds now s-l-o-w-l-y slouching toward adulthood? Panicked after reading that twenty-eight is the new nineteen, Sally Koslow journalist and mother searched for answers. Part hard-hitting investigation and part hilarious memoir, Slouching Toward Adulthood is a heartfelt cri de coeur that can help families negotiate life around the unexpectedly crowded dining tables for years to come.
About the Author
SALLY KOSLOW is the author of three novels. A former editor in chief of McCall s and Lifetime, Koslow lives in New York City with her husband. Their kids have finally moved out."
Praise For Slouching Toward Adulthood: How to Let Go So Your Kids Can Grow Up…
Praise for Slouching Toward Adulthood:
 
"Excellent. … At last, a serious, well-researched book about raising children which also includes that crucial characteristic every parent needs—a sense of humor."
—USA Today, "Top Summer Nonfiction Pick"

"'Our offspring have simply leveraged our braggadocio, good intentions, and overinvestment,' Koslow writes in her new book, Slouching Toward Adulthood. They inhabit 'a broad savannah of entitlement that we've watered, landscaped, and hired gardeners to maintain.' She recommends letting the grasslands revert to forest: 'The best way for a lot of us to show our love would be to learn to un-mother and un-father.'"
—Elizabeth Kolbert, The New Yorker

"An eye-opener. . . . Koslow writes wittily about the infantilization of American youth as increasing numbers treat getting a job and moving out as just an option."
—People

"This book is hilarious! I burst out laughing on page one, and it just got funnier and funnier. But Slouching Toward Adulthood is also hard-hitting and painfully insightful—I found myself wincing with recognition. Backed by the latest research, Sally Koslow's thought-provoking new book should be required reading for today's parents and young adults."
—Amy Chua, author of Battle Hymn of the Tiger Mother

"There's a Koslow in all of us who wants to strangle Hannah, the character played by Lena Dunham in the popular HBO show Girls, when we learn that her parents had been subsidizing her life in New York City while she worked at an unpaid internship and pursued a writing career. . . . Koslow criticizes clueless parents as much as their narcissistic offspring. She argues that babying adult children tends to yield entitled progeny who can't launch their way into the conventional phases of adulthood. Koslow offers excellent advice, which makes this book worth reading to the end."
—Fortune

"Smart, with plenty of insights and a lively prose style that should keep readers, especially the book's target audience of parents, wondering why their grown-up kids are back living in their basements, engaged."
—Booklist

"A witty, provocative study that examines why so many millennials can't seem to launch into adulthood and now find themselves 'wandering—if not literally, then psychically.' . . . Observant and bracingly candid."
—Kirkus Reviews

"Sally Koslow has written a funny, shrewd, and true account of a problem the boomer generation didn't know it had created: the consequences of helicopter parenting. We've pampered our kids so much they don't want to grow up. Who can blame them? Slouching Toward Adulthood is the book that explains why 'the guest bedroom' is a thing of the past."
—James Atlas, author of My Life in the Middle Ages

"Koslow casts a keen eye on the 'not-so-empty-nest' phenomenon that besets today's baby boomer parents . . . and provides plenty of food for thought for parents and adultescents who want to understand each other and perhaps change things for the better."
—Publishers Weekly

"Full of research, insight, and hilarious examples of what life is like for the long-suffering parents of 'adultescents,' Slouching Toward Adulthood is one of those invaluable books that identifies and illuminates a new phenomenon in our culture."
—Gretchen Rubin, author of The Happiness Project

"Sally Koslow has really hit on something with her incisive Slouching Toward Adulthood. Memorable books that struck a chord about the path of life or the dissonance between parent and child—Gail Sheehy's Passages, Nancy Friday's My Mother/My Self—all had a kind of kitchen-table humanity and an ability to limn the unnamed conflicts of a particular moment. Beneath its jaunty two-drinks-with-your-coolest-friend ebullience, this book, as of its moment as those books were of theirs, has that resonance, too."
—Sheila Weller, author of Girls Like Us

"The helicopter parent has crashed and burned. With millennials reaching adulthood it has become clear that this hovering style of parenting results in overly dependent young adults, plagued by depression or less satisfaction with their lives and anxiety, who cannot even face the workplace without the handholding their parents have led them to expect. . . . Sally Koslow [has] documented a generation so cosseted that they have lost the impetus to grow up or leave home. The over-involved parent has gone from paragon of caring to a figure of fun."
—Lisa Endlich Heffernan, The Atlantic









 
Advertisement