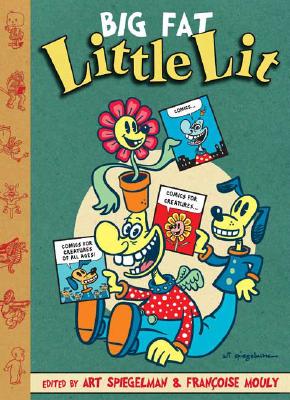 Big Fat Little Lit (Paperback)
Puffin Books, 9780142407066, 144pp.
Publication Date: September 7, 2006
Other Editions of This Title:
Prebound (9/1/2006)
* Individual store prices may vary.
Description
New in paperback for the very first time comes the New York Times bestselling Little Lit series! Choice comic stories culled from the three bestselling comic collections edited by Art Spiegelman and Françoise Mouly: Little Lit: Once Upon a Time, Little Lit: Strange Stories for Strange Kids, and Little Lit: It Was a Dark and Silly Night. The gorgeous paperback features flaps and beautifully reproduced full-color interiors. Hilarious and charming, the collection contains comics from such award-winning and bestselling authors and artists as Harry Bliss, Daniel Clowes, Ian Falconer, Jules Feiffer, Neil Gaiman, Crockett Johnson, Barbara McClintock, David Sedaris, J. Otto Seibold, Maurice Sendak, Lemony Snicket, and Art Spiegelman.
About the Author
Art Spiegelman is a cartoonist who first came to attention in the early 1980s as editor of the magazine "Raw." His books include the Pulitzer Prize-winning Holocaust story "Maus," "Maus II," and "In the Shadow of No Towers." He lives in New York City with his wife and two children.