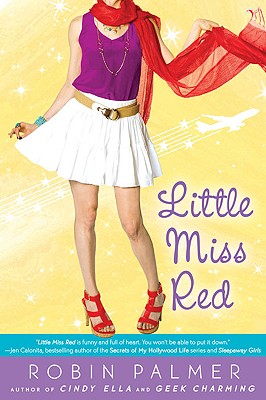 Little Miss Red (Paperback)
Speak, 9780142411230, 254pp.
Publication Date: February 9, 2010
Description
The ideal L.A. fairy tale for fans of "Once Upon a Time" and L.A. Candy, from the author of "Geek Charming.
"Sophie Greene gets good grades, does the right thing, and has a boyfriend that her parents and her younger brother just love. (Too bad she doesn t love him.) Sophie dreams of being more like Devon Deveraux, star of her favorite romance novels, but, in reality, Sophie isn t even daring enough to change her nail polish. All of that changes when Sophie goes to Florida to visit her grandma Roz, and she finds herself seated next to a wolfishly goodlooking guy on the plane. The two hit it off, and before she knows it, Sophie's living on the edge. But is the drama all it's cracked up to be?
Watch a Video
About the Author
Robin Palmer grew up in Massachusetts and New Jersey, and graduated from Boston University before she hit the road for Hollywood. Starting as an assistant in the television literary department of the William Morris Agency, she quickly moved up the ranks and spent the next decade as a literary agent, producer, and television network executive at Lifetime Television, where she developed over one hundred scripts and oversaw the production of over thirty of the cable network's original movies. In 2001, she remembered that she had originally intended to spend her life either as a writer or a toll booth collector (so she could indulge her penchant for spending her days alone reading), but as there are no toll roads in southern California, she decided to give the writing thing a try. Since then, she's written everything from screenplays to essays to a novel to a preschool guide. Although she's constantly threatening to move, she currently resides in New York City.
Advertisement